The Bar at Keen's Steakhouse
If someone were to describe the quintessential Old Boys club, they'd probably picture dark mahogany, tin ceilings, maybe some plush red chairs with cigar and pipe smoke oozing from slightly cracked windows. Perhaps some old mustached men with glass of Pappy 12 alongside a mutton chop the size of their right shoulder. If you were to describe Keen's Steakhouse the same way...you'd be right on the money...except for the plush red chairs, save that for the Copacabana.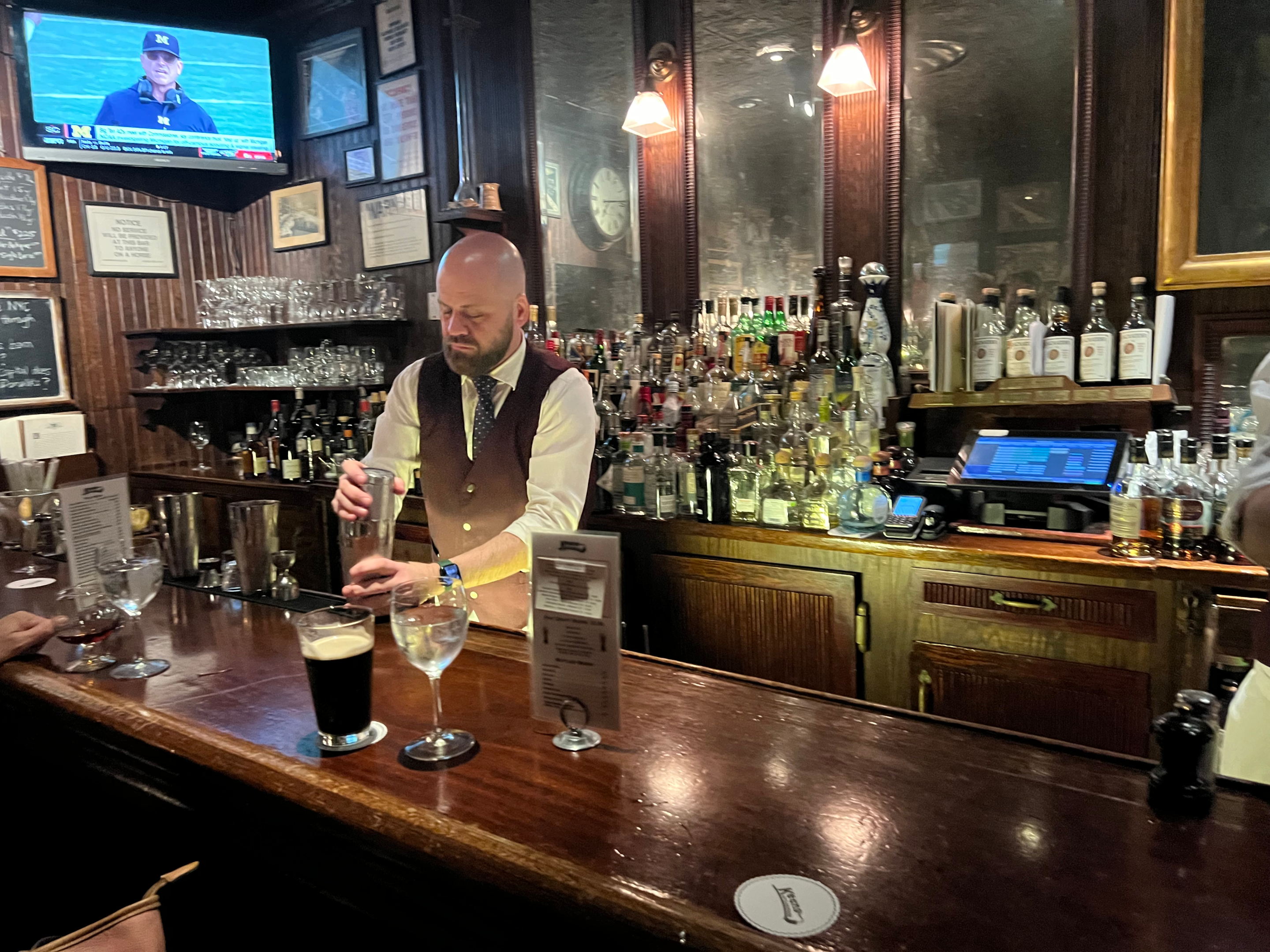 There's something uniquely comforting about dining and drinking in a place as steeped in history as Keen's Steakhouse. Hallowed halls where Teddy Roosevelt, General McCarthur and Babe Ruth used to chomp down on a large steak or mutton chop. In fact, their old pipes are still proudly displayed in the foyer. A true New York institution it's hard to beat. While our focus here is on the bar physically adjacent to the restaurant.
A Brief History of Keens Steakhouse
While we won't dive too deep into the history, a bit of context is helpful to understand and appreciate the lore of Keens. Keens steakhouse was started by Albert Keen in 1885 as Keen's Chophouse as a place for actors/playwright to go have a steak before the show. Originially a pipe club, you can still see the 90,000 pipe collection across the restaruant (although sadly you can't smoke inside anymore...maybe not so sadly). They also became famous for their oversized mutton chop, a dish that the still serve today (which I must say is damn delicious). But what truly drives customers to Keens today aside from their high quality steaks, are the famous guests who dined there before. The likes of Albert Einstein, Will Rogers, the Roosevelts,Kennedys, you name it and they've been there.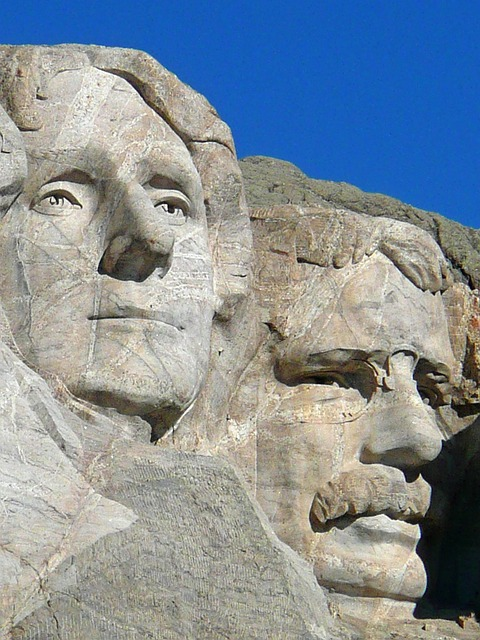 I added Mount Rushmore because you can literally enjoy the same steak as a man whose face was carved into a mountain.
The Whiskey Collection at Keen's Steakhouse Bar
While Keens steakhouse is spectacular and the mutton chops are to die for, we're here to talk about the Bar at Keens. The bar is coated in a rich mahogany that harkens back to a more elegant and masculine New York. The tin ceiling and tile floors transport you back to 1920's New York, although without the prohibition. Quick fun fact, Keens used to run a speakeasy called the Pipe Room (which you can still rent out for private events.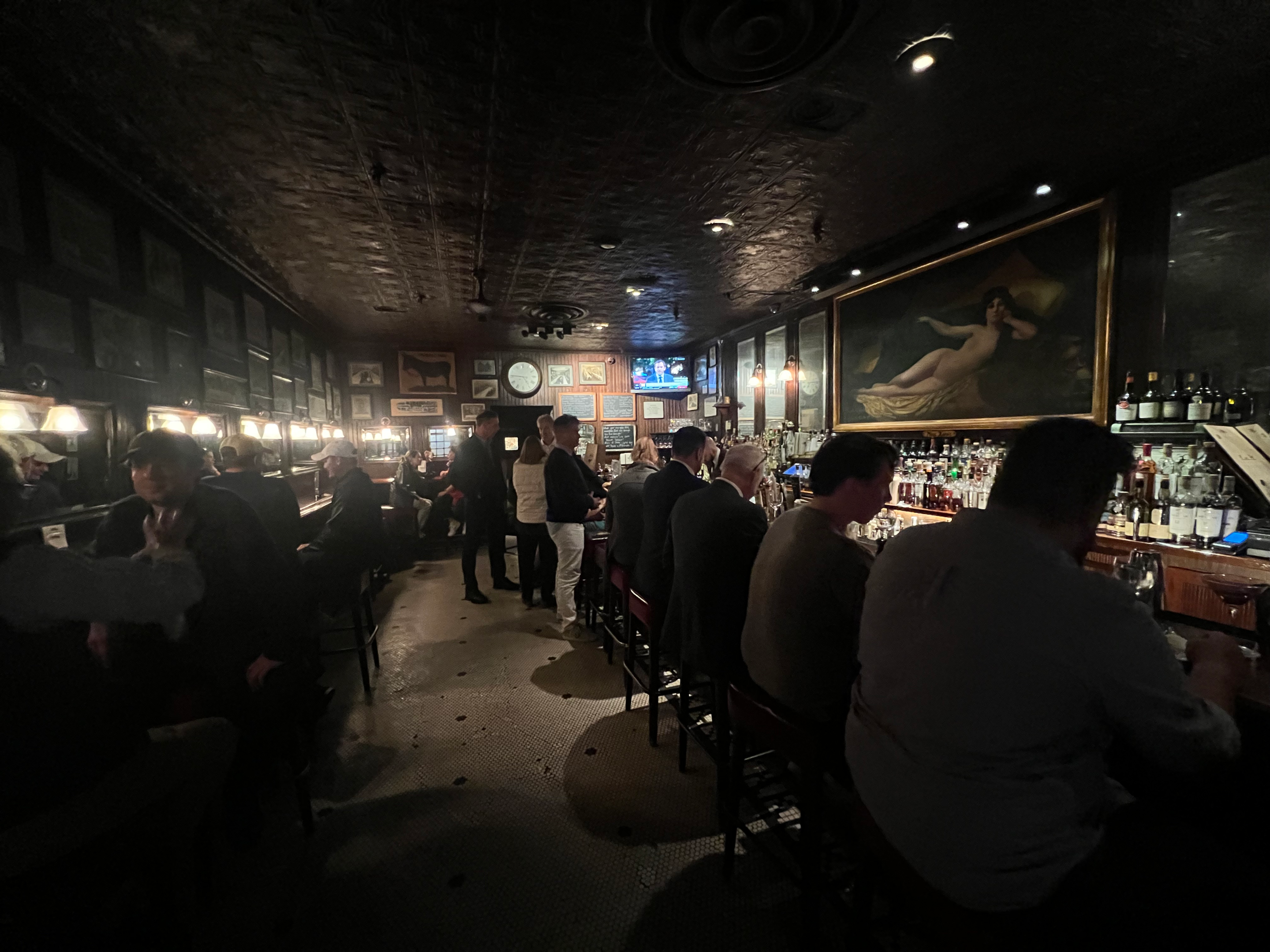 Now to the star of the show. How can a man enjoy a steak without a glass of something brown to tag alongside it? Good news. The whiskey collection at Keens Bar is second to none. The have almost every year of Pappy Van Winkle, if you can think of a scotch with Glen in front of it...they have it.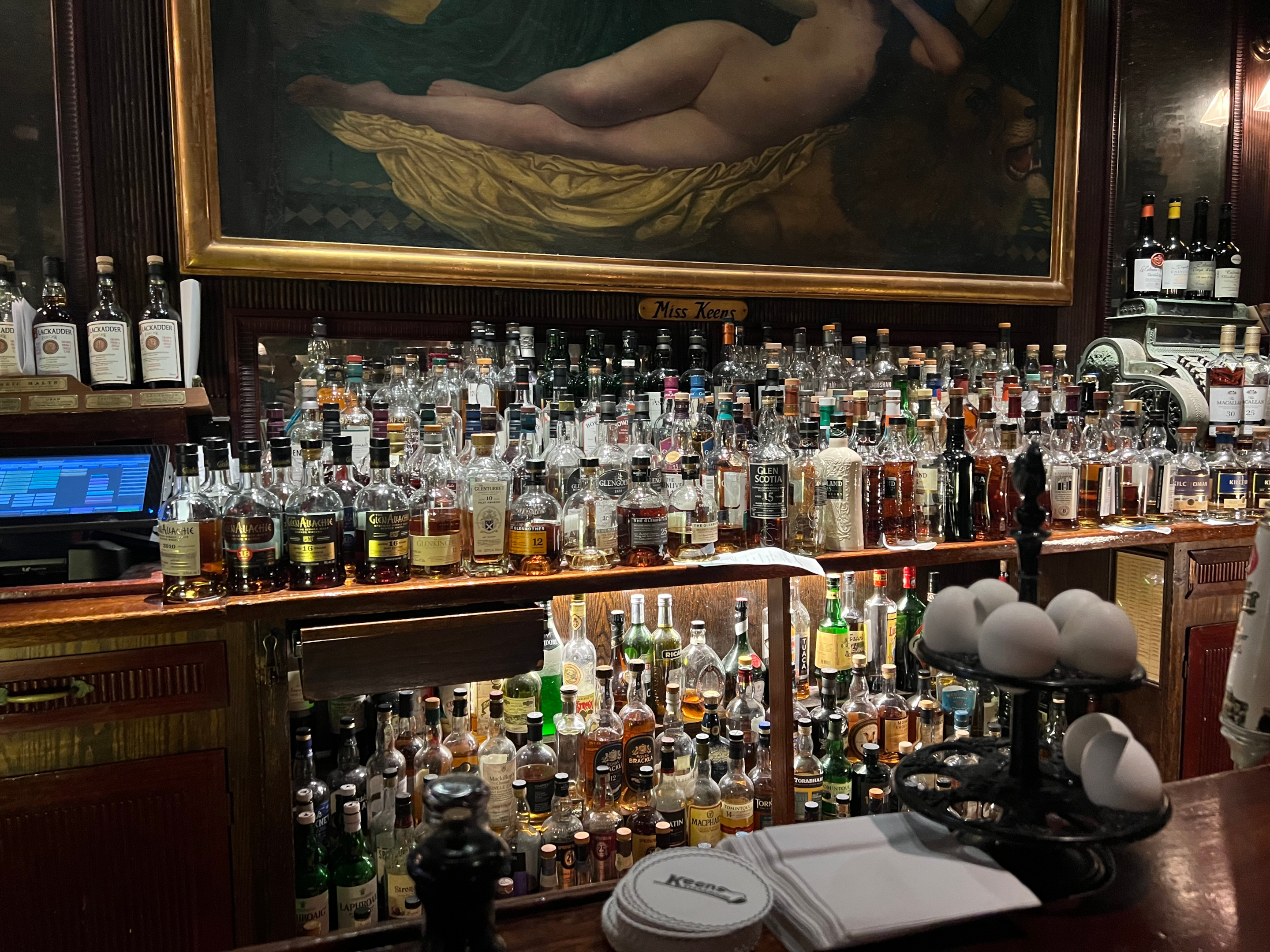 What Cocktail to Order at Keen's
What to order depends entirely on whether or not you're having a meal. I happen to be a martini guy with a chop probably because I'm part Italian. However, is hard to pass up ordering a Manhattan in Manhattan or a traditional Old Fashioned, simply due to the enormous amount of whiskey options at your disposal.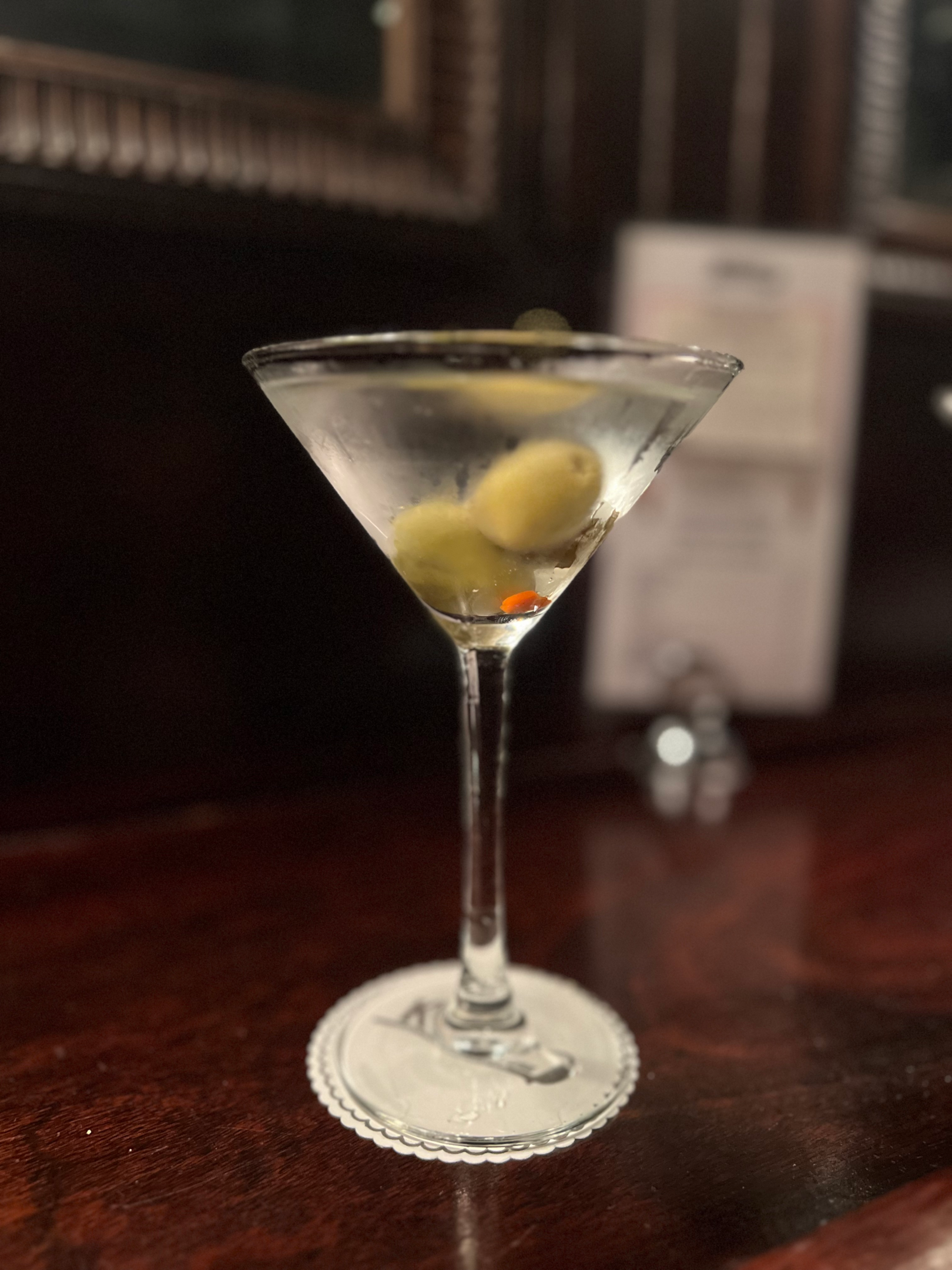 If you happen to bring a lady with you to Keens, we also recommend a lemon drop (we know...but it's not for us...it's for them).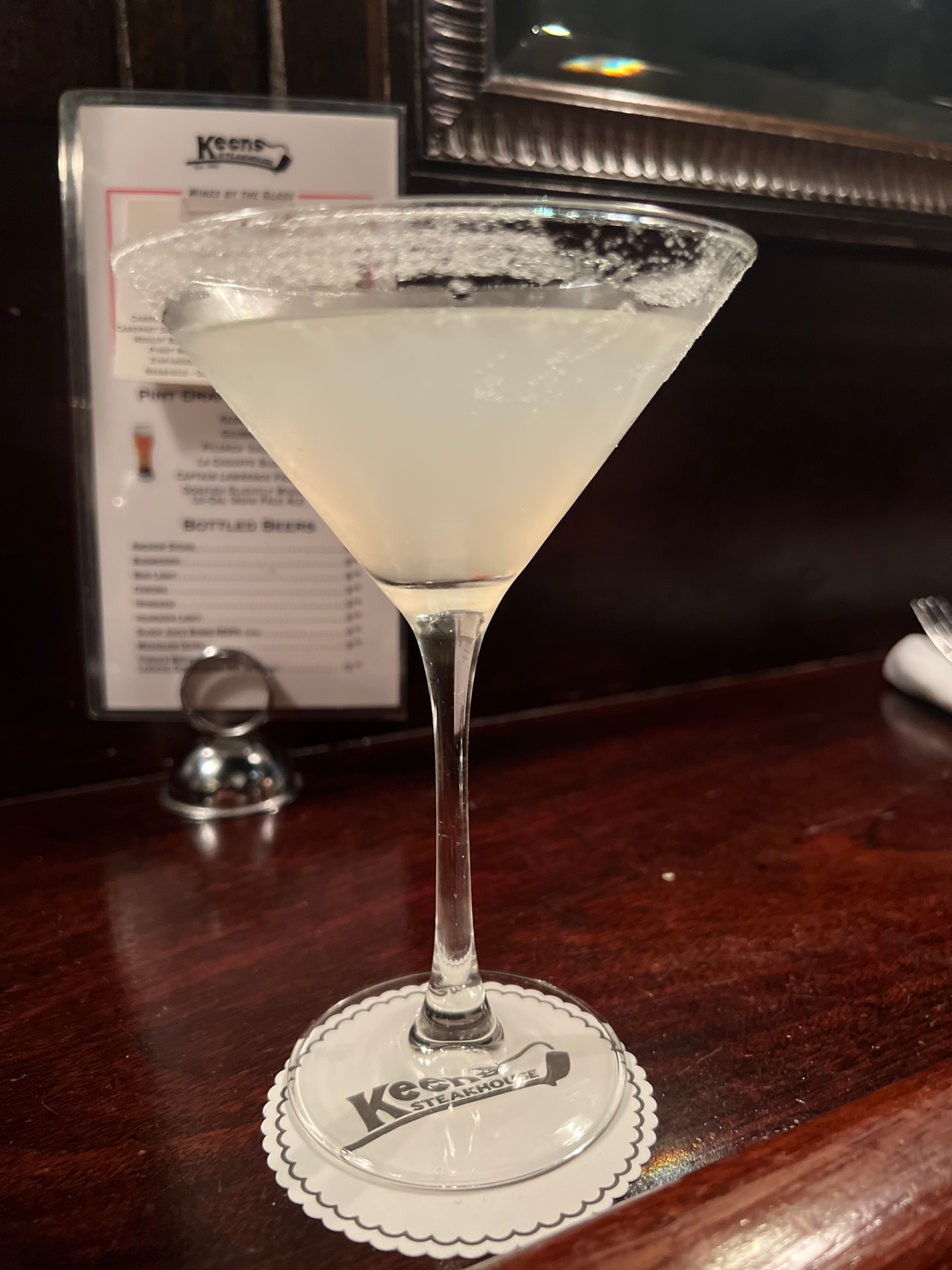 Is There a Dress Code at Keens Steakhouse?
Unfortunately, there is no dress code. It actually boggles my mind that people show up in shorts and a T shirt to a place to famous. But alas, we would never go to a steak dinner at least looking presentable. There will be no shortage of people in coats and ties, although they might be coming from work.
Final Notes on the Bar at Keens Steakhouse
There are few places in the world where you walk in and you feel something. Capturing that sanguine feeling is something Keens does remarkably well. The food, the ambiance, the clay pipes on the wall remind you an older era whilst everything you order remains delicious. Even the classics like a caesar salad or a creamed spinach taste better in a place like Keens. If you're looking for an after after cocktail we recommend you head up to Bemelman's Bar at the Carlyle for some smooth jazz(the good kind) and a night cap. The city is full of classic steakhouses and claims to the best steak but this one truly stands out.
---