Best Moscow Mule Mugs...Pure Copper
The ultimate copper cup...the bronze chalice...the sure sign of a good time (or is that miller lite?). We know what I'm trying to say. Finding the best moscow mule mug was indeed a challenge, especially when you need to balance craftsmanship, cost, and aesthetic. But we managed to narrow it down to a few options. We wanted to find artisan, hand crafted, and aesthetically pleasing mugs. We avoided the mass produced copper mugs because we all want something that stands out.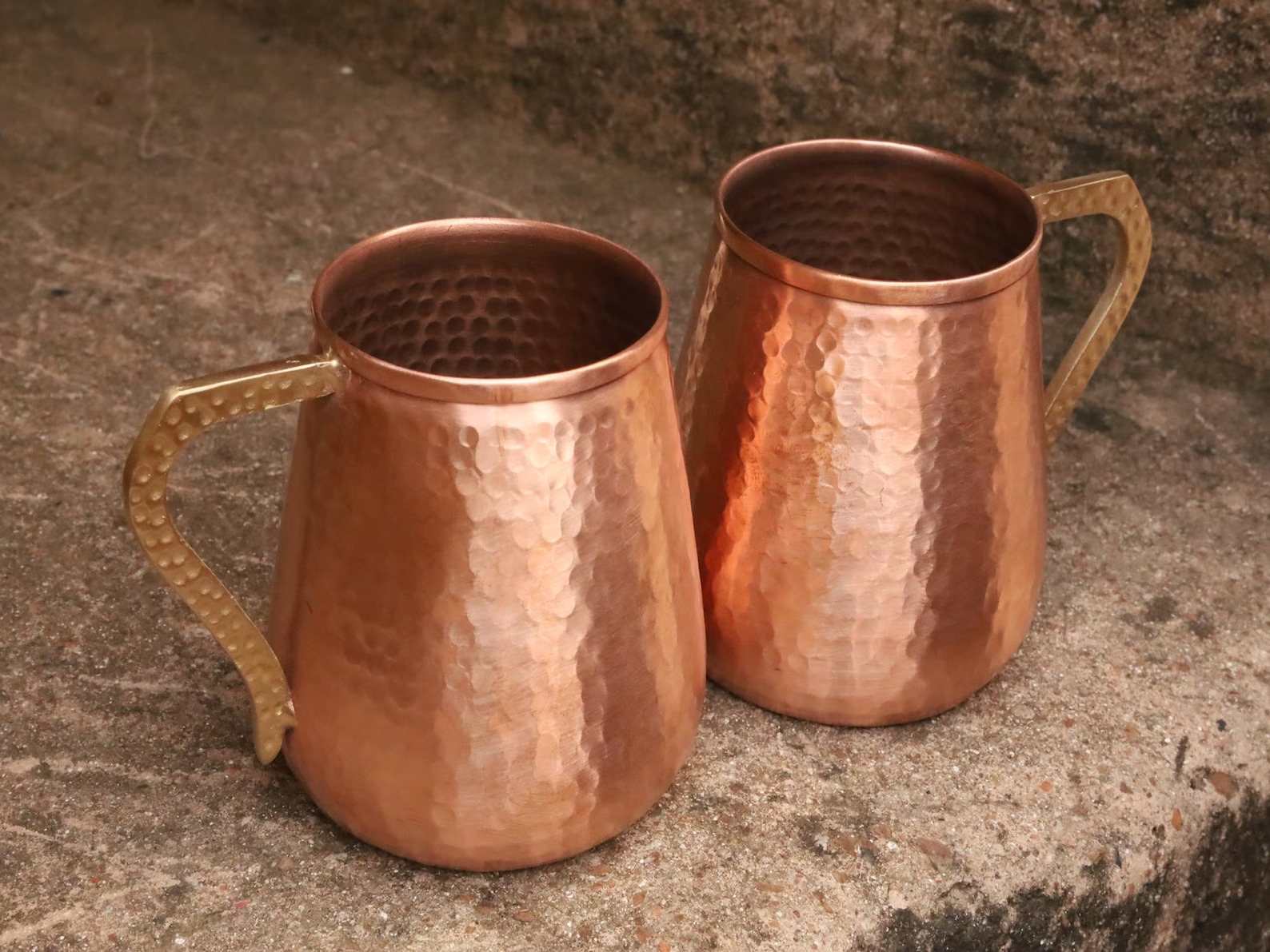 Highest Quality Copper Mug
Our first recommend stays close to the original moscow mule mug design (if you want to learn more about the history of the moscow mule mug ). A handmade pure copper mug with a hammered finish is perfect for your morning mule (wait morning mule?I mean why not?), late afternoon lemonade, and evening water drinks. These drink-safe mugs, designed and made by talented artisans , come in a copper mug set of 2.
Why we like it :
Feels sturdy in your hand, the copper doesn't feel cheap
You can tell its handmade due to the spot welding
The hammering is isn't perfect, which gives it an authentic look
Who will like it :
This is for someone who prefers handmade products. The hammer markings will not be perfect etc
Potential Drawbacks :
We wouldn't recommend putting it in the dishwasher unless you're going to thoroughly dry it.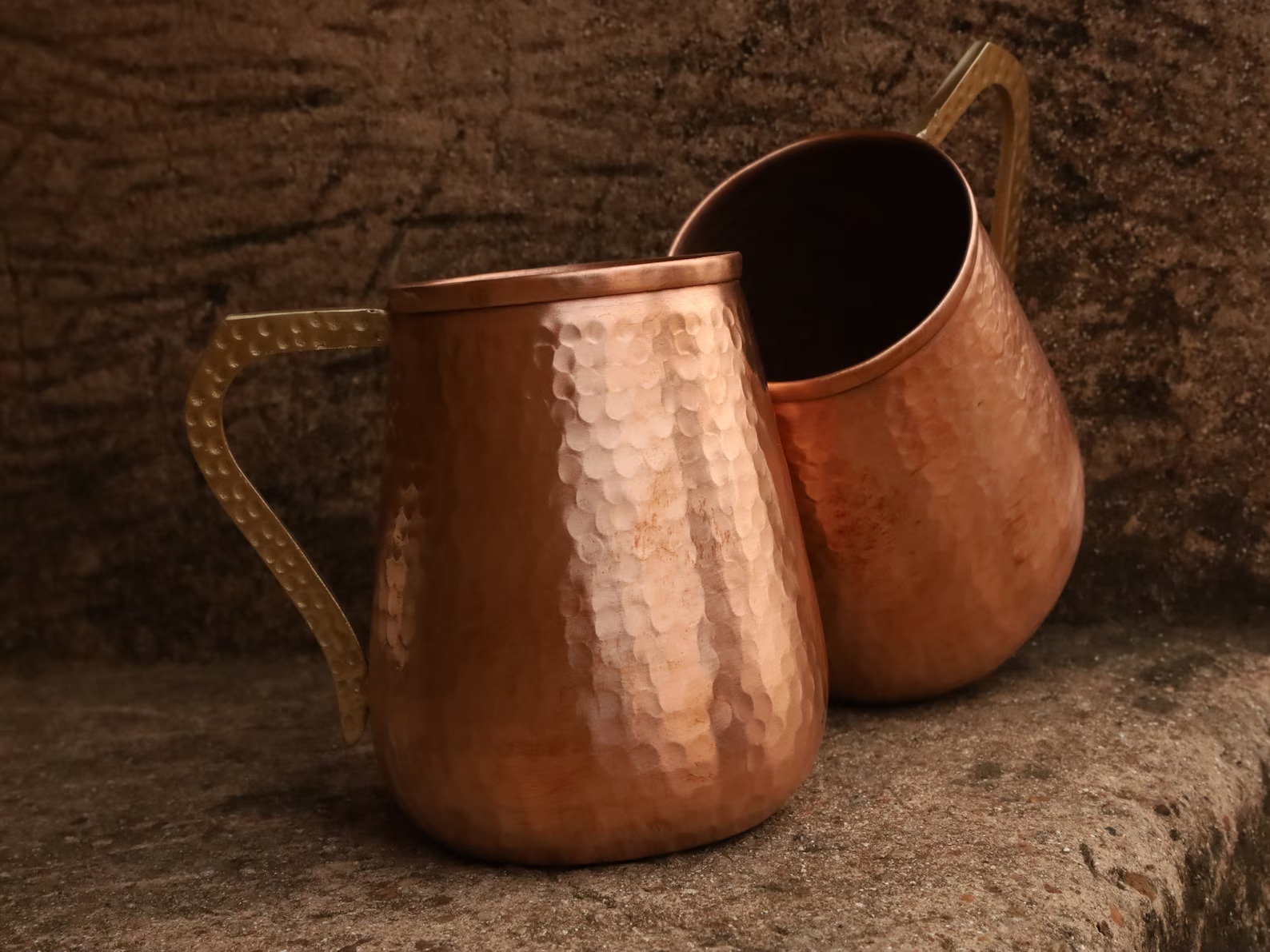 Specs :
Made of solid copper

Moscow mule Mug Set of two
Price : 39.99 $$
Most Beautifully Designed
Now if you want to get a little more whimsical in your design of the moscow mule mug, take a look at these deeply ornate mugs from CopperFashion Designs. Highly intricate design that come in a variety of colors from the traditional moscow mule mug copper to blues, oranges, blacks and yellows. While it's always hard to what the best moscow mule mugs are...these come pretty close. Especially if you want a little more panache in the design.
Why we like it :
When everyone has the same thing, sometimes its nice to stand out
We always waffle between ornate and minimalism, this hits the ornate style
Who will like it :
People who hate boring stuff
Artists and craftsmen
Potential Drawbacks :
Honestly, it's just a style preference. if you want the classic, then this isn't it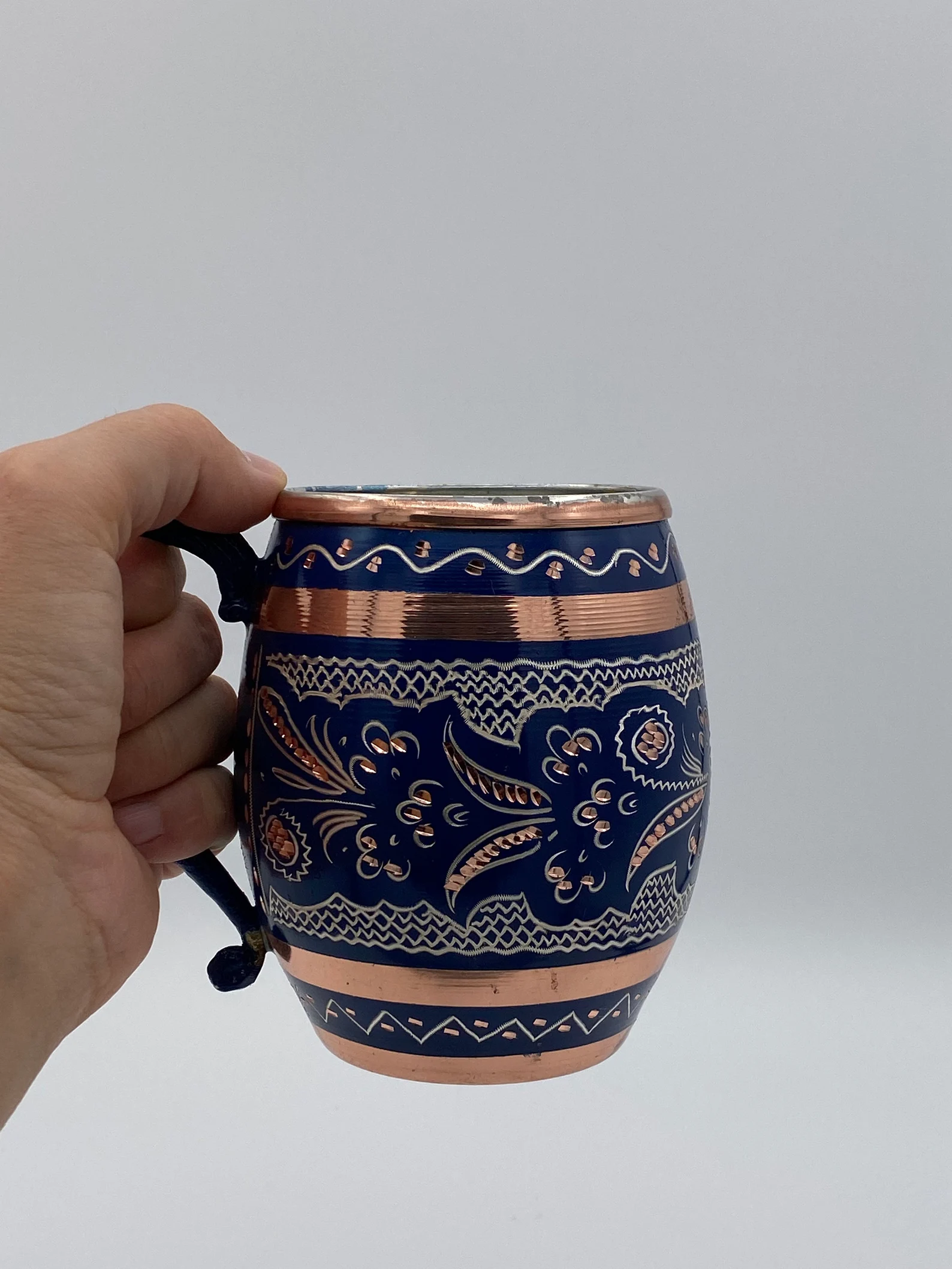 Specs :
Solid Copper Mug

Handmade
Price : 70.00 %%
Personalized Moscow Mule Mugs
Often when buying gifts, it goes a little extra if you can etch the person's name or perhaps something special that means something to the two or 8 of you (groomsman??). Instead of pointing in a particular direction, take a look at the Amazon moscow mule page and see which ones resonate the most with you. With a gift like this, how could you go wrong?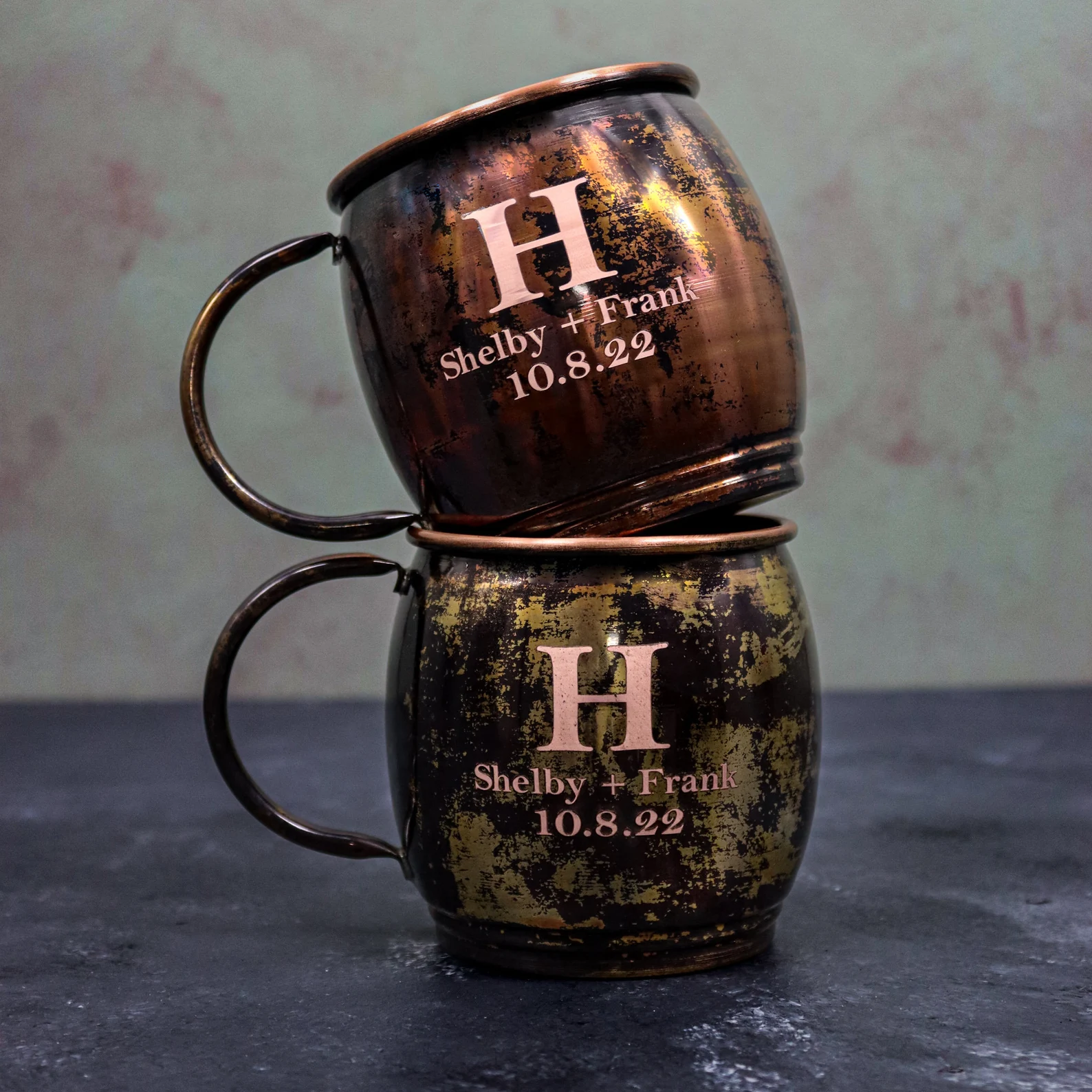 Do Copper mugs tarnish?
The answer is yes. If you choose to go with Moscow Mule mug that is actually made of copper and not stainless steel then you will need to polish the Moscow Mule mug at least every six months to keep the mug at top quality.
Do you have to Polish Moscow Mule Mugs?
The short answer is yes you do. Overtime, especially if you use frequently the copper will begin to tarnish. Now you can either choose to let it tarnish or you can rub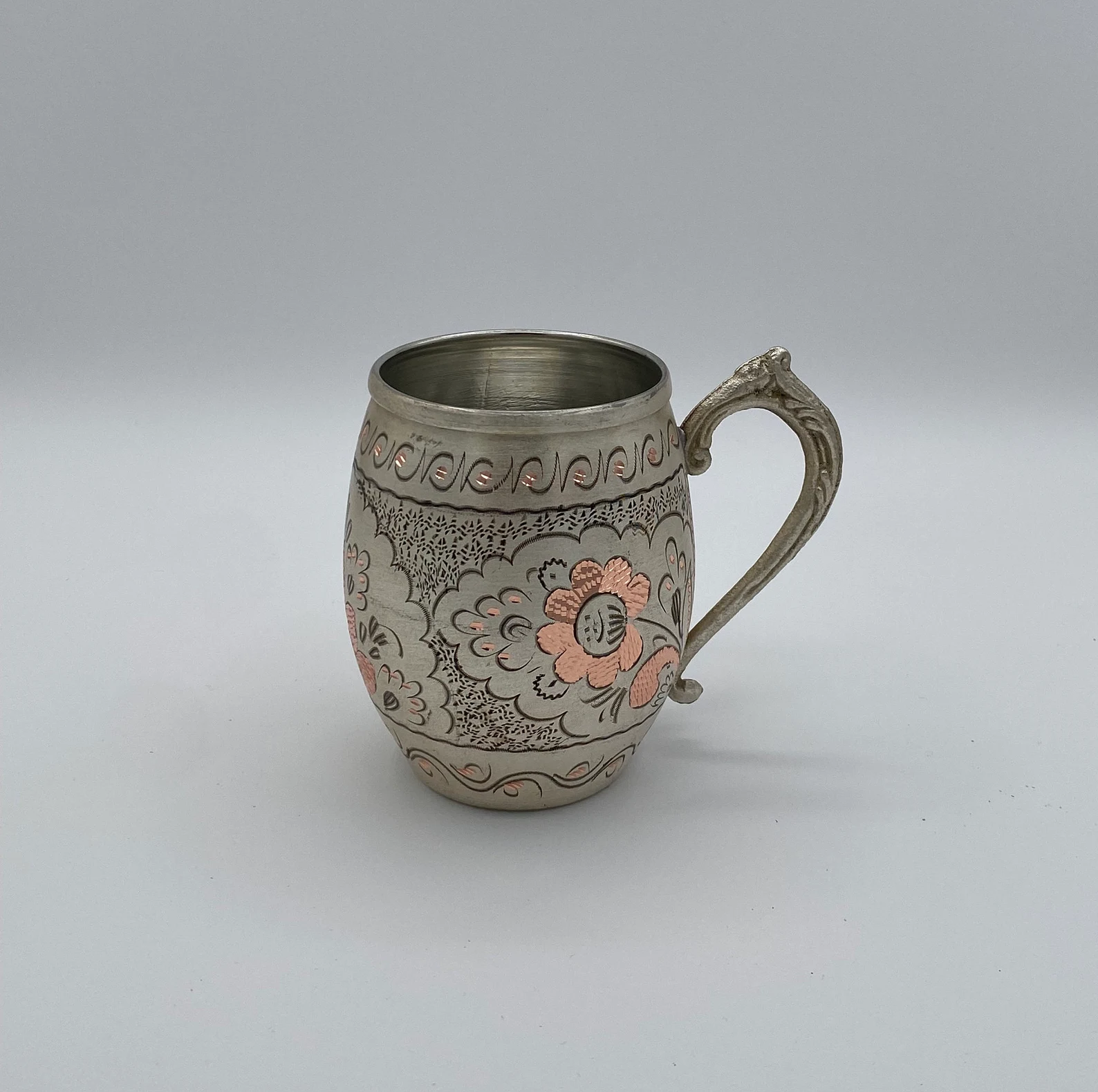 We recommend you just buy a copper cleaner from either Amazon or the local hardware store. We the copper cleaner from the link below. Also make sure to pick up a copper cleaning cloth (or just use a regular rag if you're okay throwing it out after). We recommend a hand wash as well even though they are dishwasher safe. Better safe than sorry. Copper mule mugs can be a bit sensitive!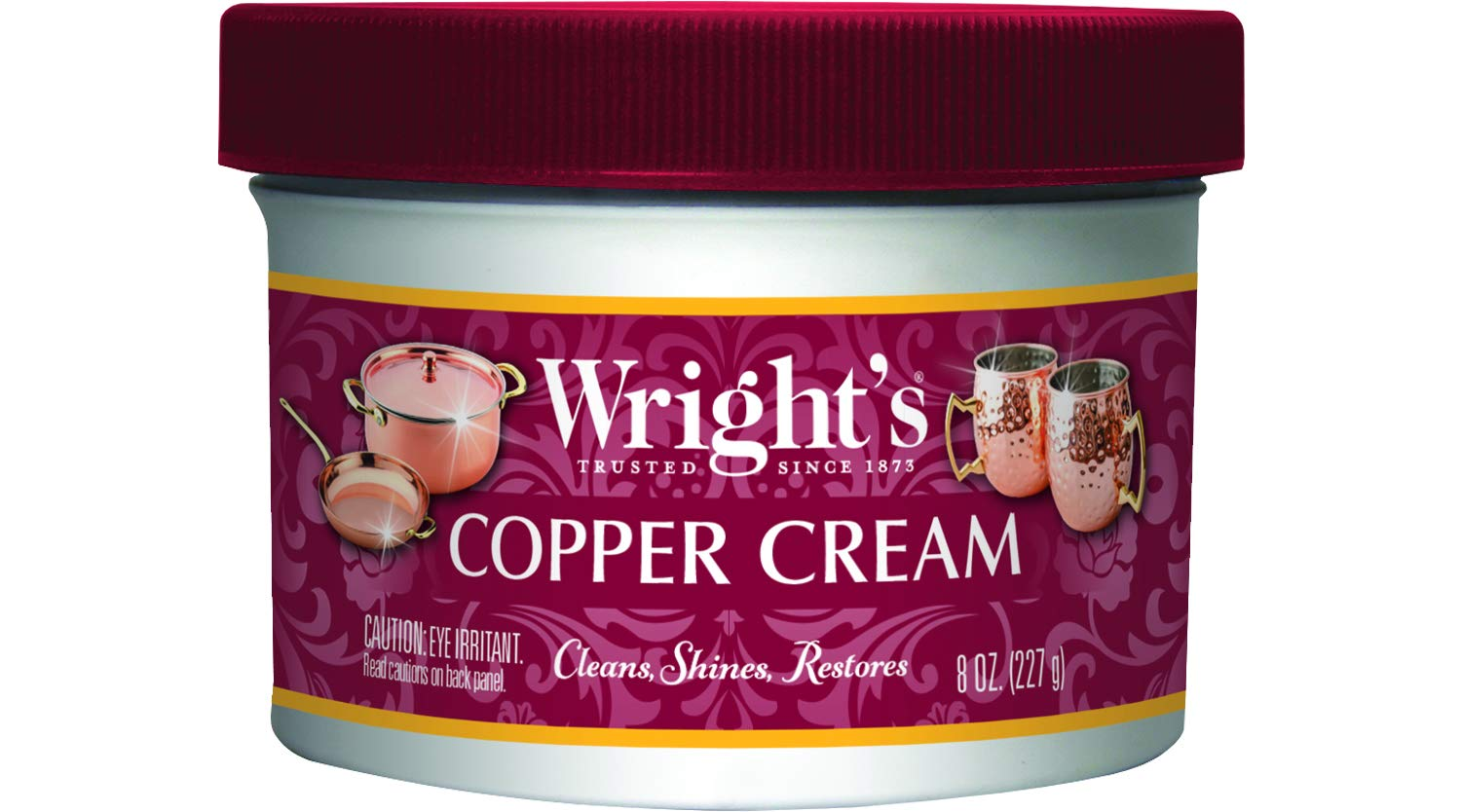 Brief History of the Moscow Mule Mug
Despite the name Moscow Mule, this cocktail recipe is uniquely American. What? How? Around the turn of the century, Sophie Berezinski was working at her father's copper factory in Moscow. Sophie designed the original copper mug but ran into a major sales problem. No one is Russia wanted the mugs! Sophie, like many others, embarked on the immigrant journey and left her home in Russia. Before she left Russia, her father put over 2000 copper mugs on the ship and the story begins.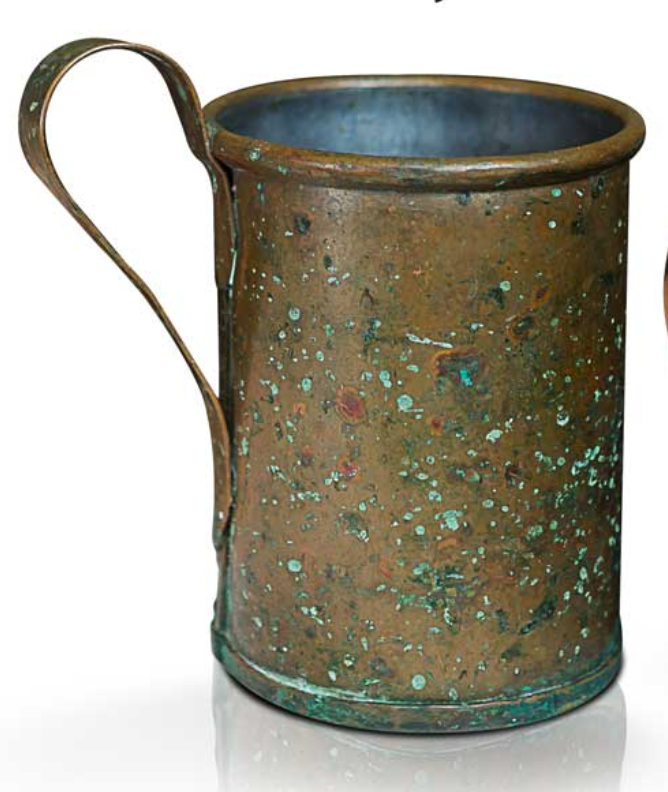 2000 Copper Mugs, now what?
2000 copper mugs and a dream. After Sophie made the initial trip to New York, she eventually married her husband and moved to Los Angeles. Her now husband grew tired of seeing all these copper mugs line their apartment and thus Sophie went off to sell her wares. In an unbelievable stroke of luck, Sophie runs into John Martin. John Martin happened to own Smirnoff Vodka. At the time, Americans generally preferred hard liquor but John Martin wanted to bring a clear spirit stateside.
What are the Original Moscow Mule Mugs?
If you take a look at the image up above...the super old looking moscow mule mug, that's the OG that was transported all the way from Moscow to Hollywood. Just a pure hammered finish that someone got lucky with and became a national sensation.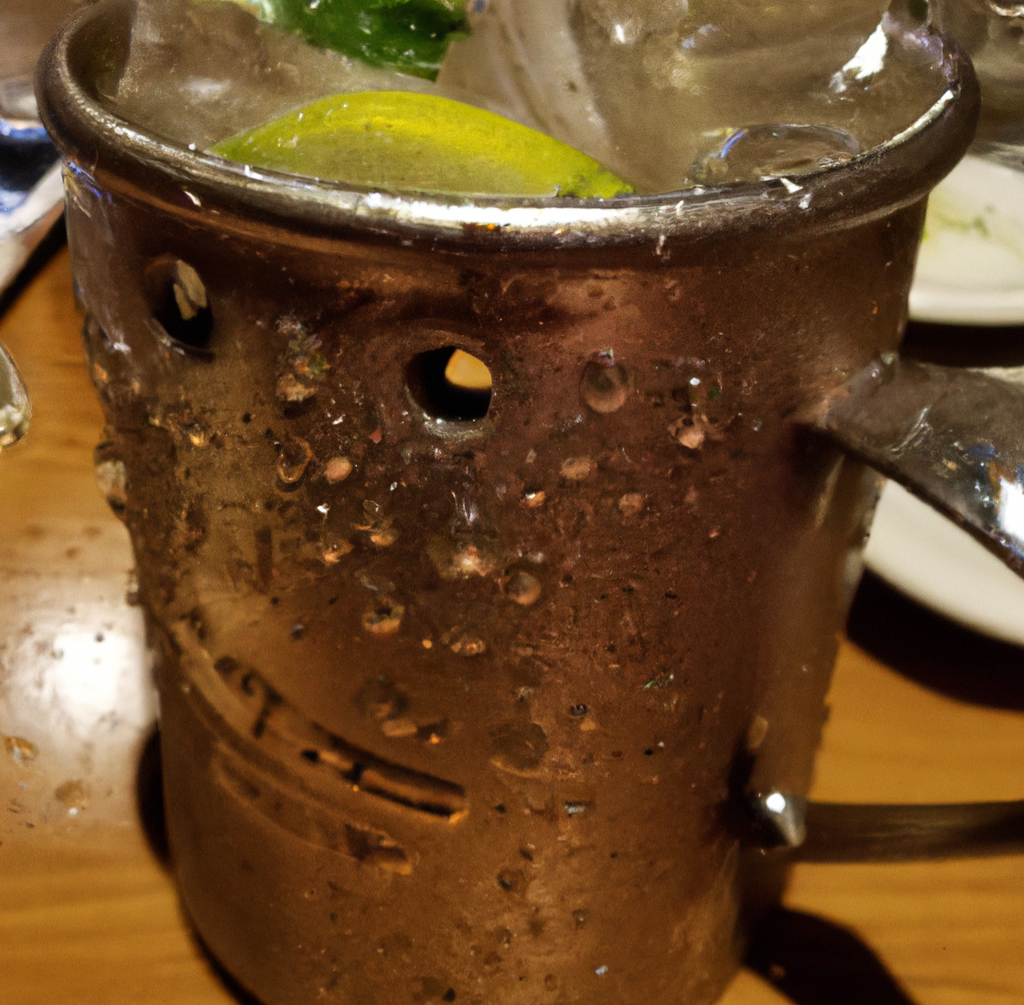 Interested in A Few Cocktail for your New Copper Mugs?
We put together a list of our favorite cocktails for copper mugs. From the Moscow Mule to the Mint Julep served in a signature copper mug. So go buy some ginger beer, a couple moscow mule mugs and maybe a copper shot glass or two.
---