History of the Manhattan Cocktail
Gone are the days where the Manhattan was limited to a smokey gentleman's club. The Manhattan has grown up and become a true bar room favorite. The perfect balance of cherry, angostura bitters, rye whiskey and vermouth. This heady cocktail is simple yet delicious and perhaps is the most iconic cocktail in terms of both history and craft.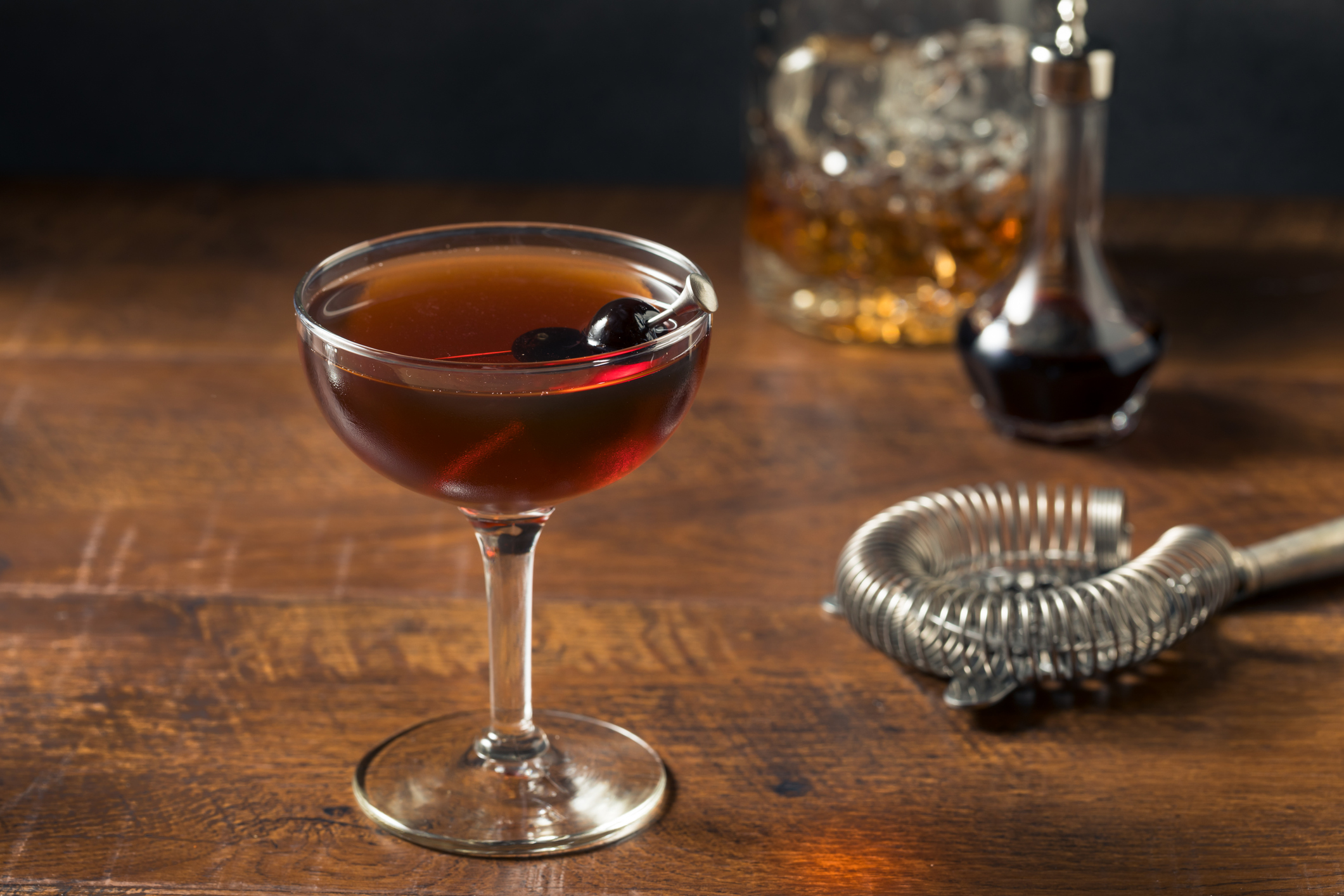 Who invented The Manhattan Cocktail?
The apocryphal story goes that during the mid 1870s at the Manhattan club in New York City. Jennie Jermone, Winston Churchill's mother and now known as Lady Randolph Churchill, threw a large party in honor of presidential candidate Samuel Tilden. Ian Marshall concocted this special drink and the cocktail became a smash hit. The cocktail took the name of the establishment where it was created, hence The Manhattan Cocktail.
*Interesting that Lady Randolph invented such a famous drink and more interesting that her son become famous for his ability to drink.
The Bartender's Guide
As we scroll through time all the way back to The Modern Bartender's Guide we can find the origins of the manhattan cocktail. Prior to The Modern Bartender's Guide there was limited written knowledge on mixology. O.H Doyle wanted to change that. O.H Doyle writes in The Modern Bartender's Guide that "this work has long been a necessity, owing to the absence of any authority upon the method of mixing the many new popular drinks that have come in vogue."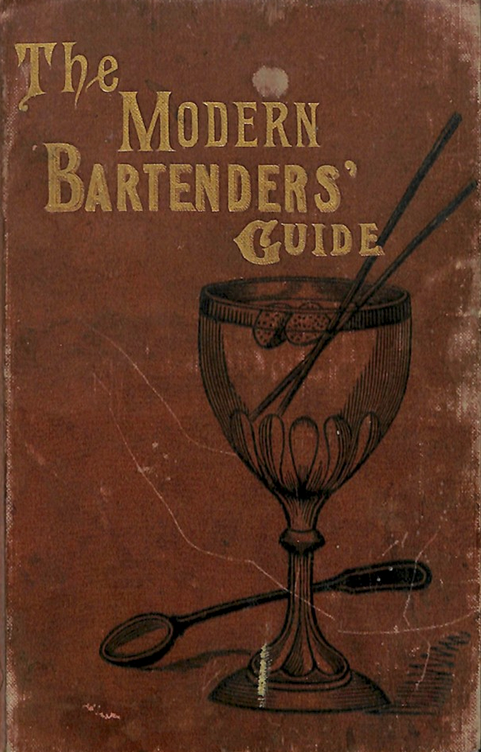 We've provided an excerpt below of O.H Doyle's Manhattan cocktail and remarkably not much has changed. The terminology has changed but the essential ingredients have remained. Let's break down the old terms.
Pony = 1 oz

Gum Syrup = Gomme Syrup or essentially another form of simple syrup

Angostura bitters remain the same

French Vermouth - essentially the same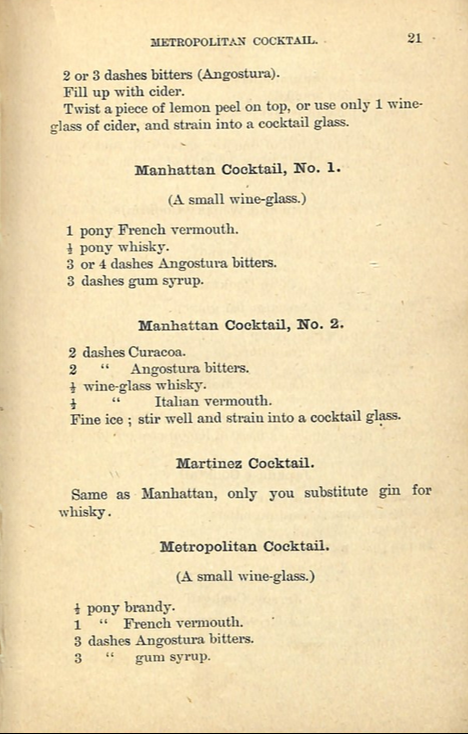 American and Other Drinks
Three years after O.H Doyle's The Modern Bartender's Guide was released, Charlie Paul released his own cocktail book, American and Other Drinks . Cocktail culture was beginning to set down large roots not only in New York but also across the American continent.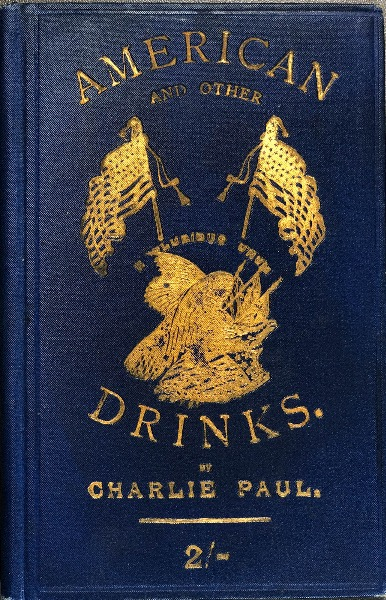 This guide has a slightly different Manhattan recipe, using ice and scotch whiskey. In contemporary culture the preferred whiskey is either a rye or a combination of rye whiskey and bourbon.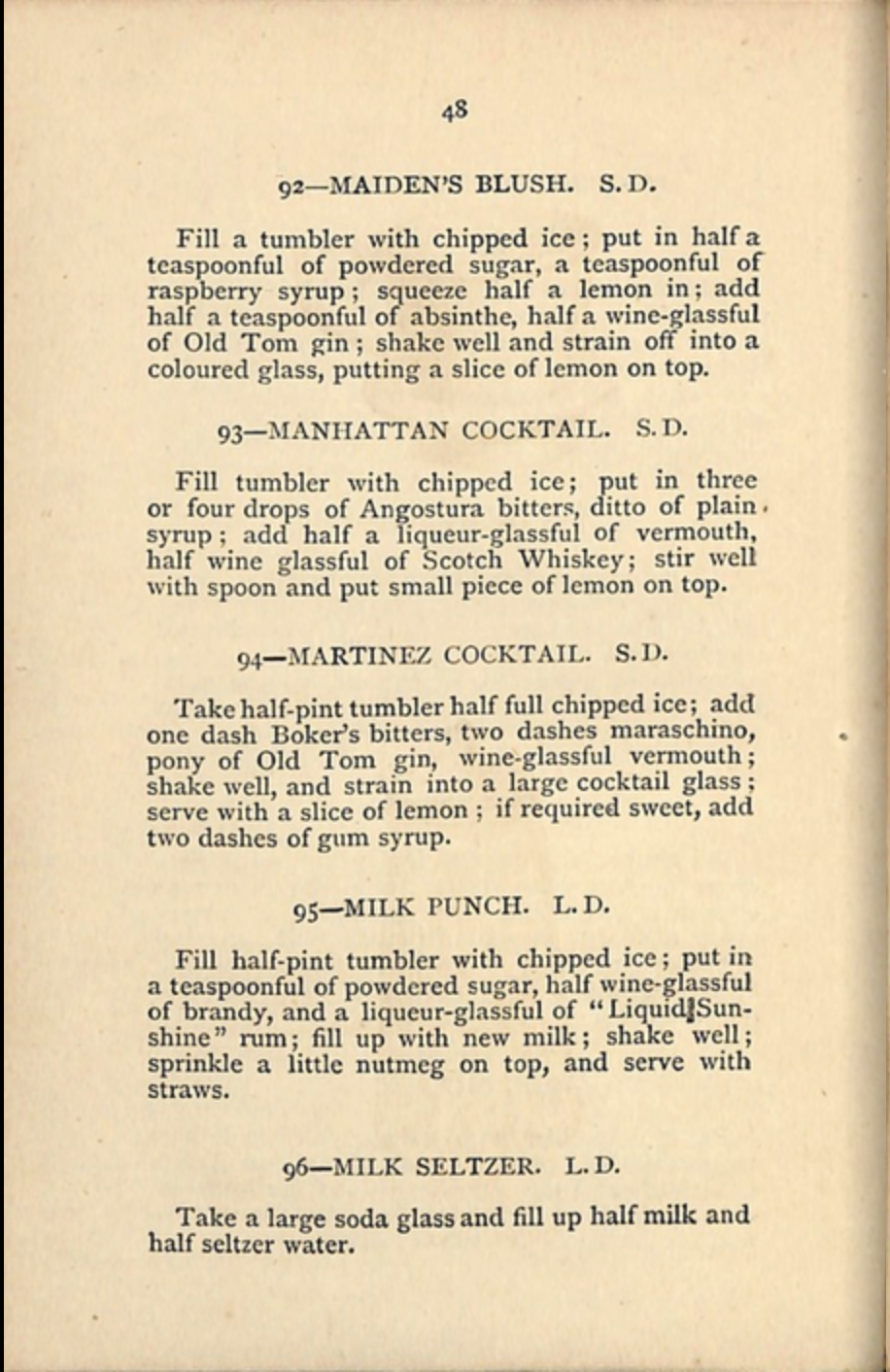 In summary we can declare that the Manhattan Cocktail was invented during the 1870's and most likely inn New York City's Manhattan Club. While there is a Manhattan club within New York City, the original is unfortunately long gone. While the hotel is gone, the history of the Manhattan cocktail remains with us.
What is Sweet Vermouth/ What's difference between sweet and dry vermouth?
Vermouth quite simply is a fortified wine. A Fortified wine is a wine which a distilled spirit has been added to it, while the aromatized wine is infused with spices, roots, herbs, and other natural flavorings. Vermouth originated in Italy in the late 18th Century was a generally a grape wine that was fortified with various herbs or colors.
Sweet Vermouth is generally a colorful vermouth and is commonly used in Negroni's and Manhattan cocktails. Most sweet vermouth is red but there can also be orange or other colors.
Dry Vermouth is generally clear and has much less sugar content than it's sweet vermouth cousin. Italian Vermouth like Martini and Dolin tend to be our favorites.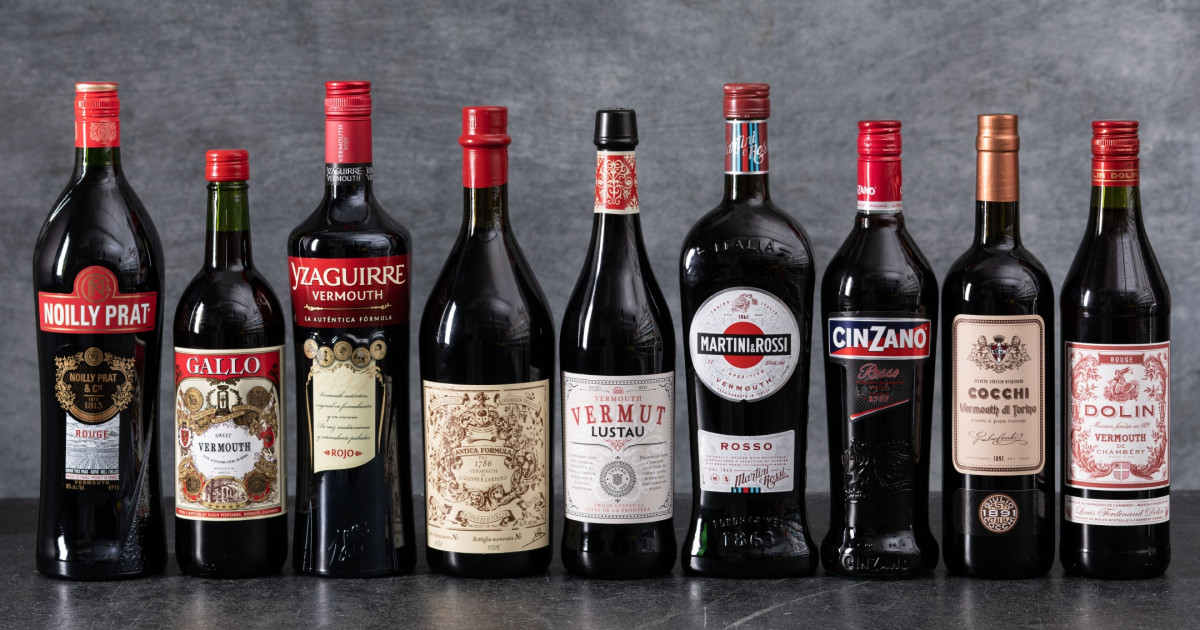 What is a Maraschino Cherry?
The Maraschino Cherry is derived from the Marasca cherry of Croatia. The cherry was then brined in an alcohol, Maraschino, to obtain its signature flavor. This traditional brining process was interrupted during the prohibition era. The cherry manufacturers had to get smart and develop a new method of brining. Not to get too scientific but the cocktail manufacturers began to use sodium metabisulfite...a version of salt.
This delicious cherry provides a delicious sweet flavor to the Manhattan cocktail while also starring as elegant garnish.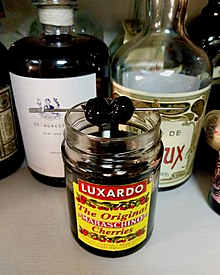 What are Angostura Bitters
While we have a whole article dedicated to breaking down Angostura Bitters, we put together a short summary below:
Amongst the cocktail bitters, Angostura bitters are an important and perhaps the most famous cocktail bitter that is made in Trinidad and Tobago by House Angostura - Trinidad. The small bottle is easily identifiable by the unusually large white branded labels, which are reportedly a sizing error the firm chose. How bitter is the angostura flavor? Its flavors have bitter spicy taste and are characterized by some clove and cinnamon flavors.
It is not known exactly how it is used but it has been produced from Gentian root and other spices and herbs. Angostura bitters were first introduced in 1824 in an Angostura village in Venezuela as a medicine tonic. Originally these bitters were derived from tree bark and combined with other ingredients to give Angostura bitters their unique flavor.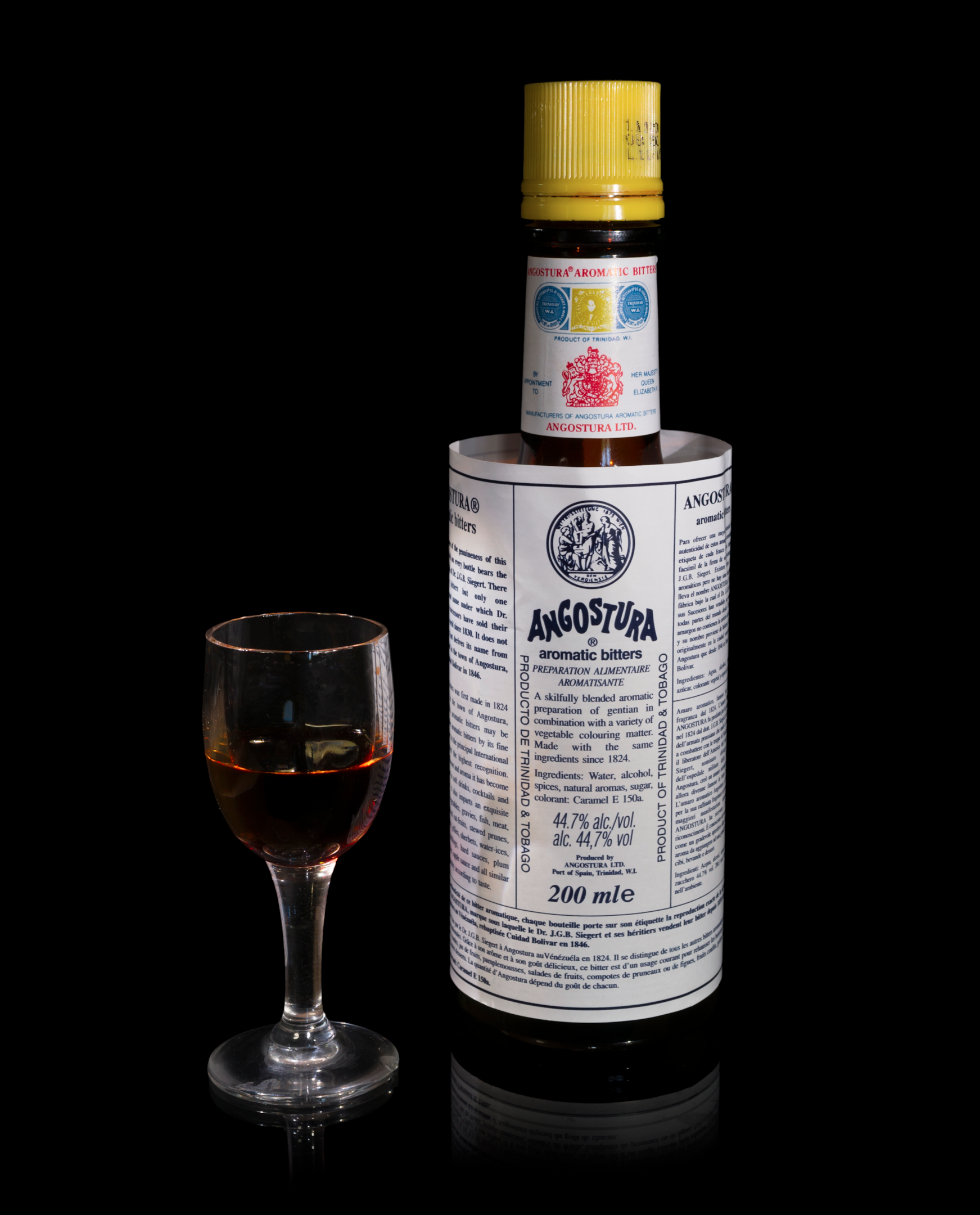 Variations of The Manhattan Cocktail
The Classic Manhattan Cocktail
This exquisite cocktail aims to find the perfect equilibrium between spice and sweet. Our classic version combines both Bourbon and Rye to delicately find that perfect middle. We prefer a Manhattan served UP.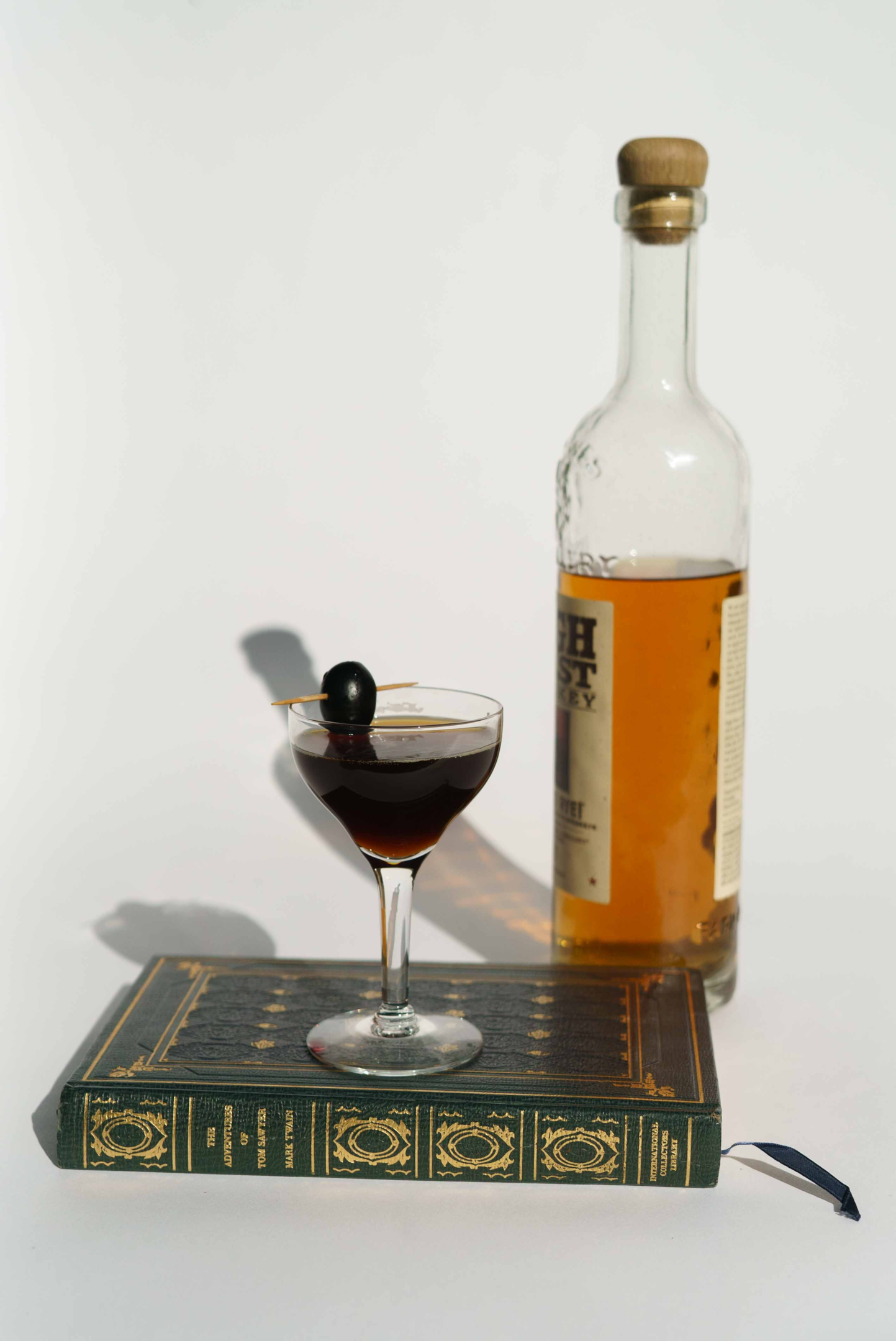 Ingredients :
2 Ounces Rye Whiskey

2 Ounces Bourbon

2 Ounces Red Vermouth

5 Bitters, 2 Angostura + 3 Orange Bitters

Maraschino Cherry
Rob Roy
The Rob Roy Manhattan is similar to the classic Manhattan cocktail and probably the most famous cousin to the original. In fact this version is closest to the original recipe we say in both the Bartender's Guide and American and Other Drinks.
4.5 cl Scotch whisky

2.5 cl Sweet vermouth

Dash Angostura bitters
Cuban Manhattan
A personal favorite of ours, the Cuban Manhattan swaps out the traditional whiskey and substitutes a dark rum. This substitute can be quite delicious from Old Fashioneds to Manhattans.
4 Ounces Dark Rum

2 Ounces Red Vermouth

5 Bitters, 2 dashes Angostura bitters + 3 Orange Bitters

Maraschino Cherry
Bourbon or Rye Whiskey?
The choice between a Bourbon or Rye Whiskey is highly dependent on a person's individual tastes. If they like a sweeter drink, we would generally recommend going with a Bourbon. If you want to stay closer to tradition then we would recommend going with a Rye Whiskey. But...if you're like us, why not combine the two?
How to Make The Manhattan
This exquisite cocktail aims to find the perfect equilibrium between spice and sweet. Our version combines both Bourbon and Rye to delicately find that perfect middle. We prefer a Manhattan served UP.
Ingredients :
2 Ounces Rye Whiskey

2 Ounces Bourbon

2 Ounces Red Vermouth

5 Bitters, 2 Angostura + 3 Orange

Maraschino Cherry
Directions :
In a large shaker combine the Rye Whiskey, Bourbon and Red Vermouth

Dash 2 Angostura Bitters + 3 Orange Bitters

Shake well and strain into a chilled Coupe glass

Add cherry for garnish
Looking to learn more about the History of other Cocktails?
Be sure to check out our History of the Martini or History of the Mint Julep. Subscribe to our newsletter for more history as we break down two cocktails a month. History of Manhattan Cocktail is just one of many story.
Need the proper glass to make classic cocktails? Making the perfect drink or manhattan cocktail requires not only the right recipe but the right cocktail glass.
---