Why are Bar Carts so Expensive?
Bar carts are expensive for a variety of reasons from the brand to the quality of the material. The right bar carts don't skimp on any of the essentials. The best brands are sure to source the highest quality brass or acrylic. The manufacturing process drives a big portion of the costs.
For example, rattan bar carts or cane bar carts, are usually made of fine Indonesian Rattan. The rattan (almost a type of bamboo) needs to be molded, bent, and then secured with the appropriate glues, fine fibers, and then set with a glass top.
Whereas a Brass bar cart is usually subject to the prices of metals and level of craftsmanship that goes into it. A proper brass bar cart will be made of the highest purity brass while also blended with other alloys so you're not constantly polishing the brass and preventing rust from accruing.
In summary these are qualities ranked in terms of why they are so expensive
Materials

Design

Importation

Transportation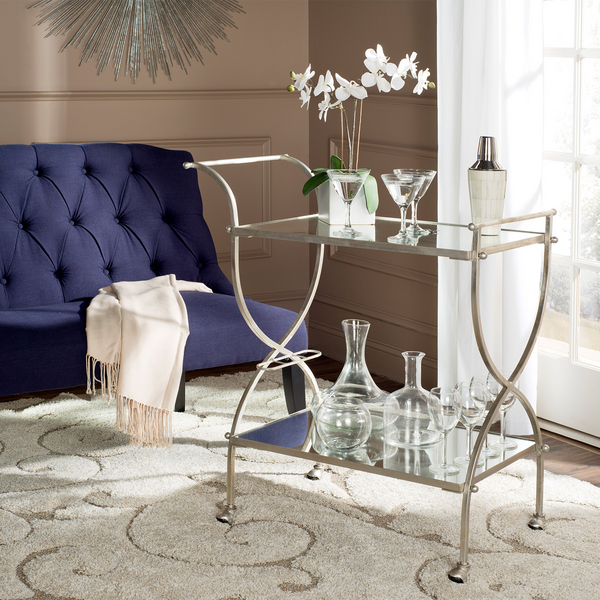 What are Bar Carts Made out of?
Most high quality bar carts are made of a few ingredients.Our favorite, unless you're designing a tiki bar, is to choose a bar cart that is made out of a high quality metal with a glass top. When you start to combine those two, that's when the prices begin to go up. They require a special metal casting and then a custom glass mold to be put on top.
Polished Brass
The bar cart or tea trolley ( if you're not serving alcoholic beverages), that tends to look the best in a mid century style home or modern home would generally be a polished brass. A pure polished brass bar cart will generally start at around 500$$. The vast majority of brass bar carts will come on four wheels and have a larger surface area than an acrylic or glass bar cart. Since the brass of the cocktail carts can support more weight. The more brass, usually the higher cost. A brass bar cart will be the most reminiscent of the mad men era.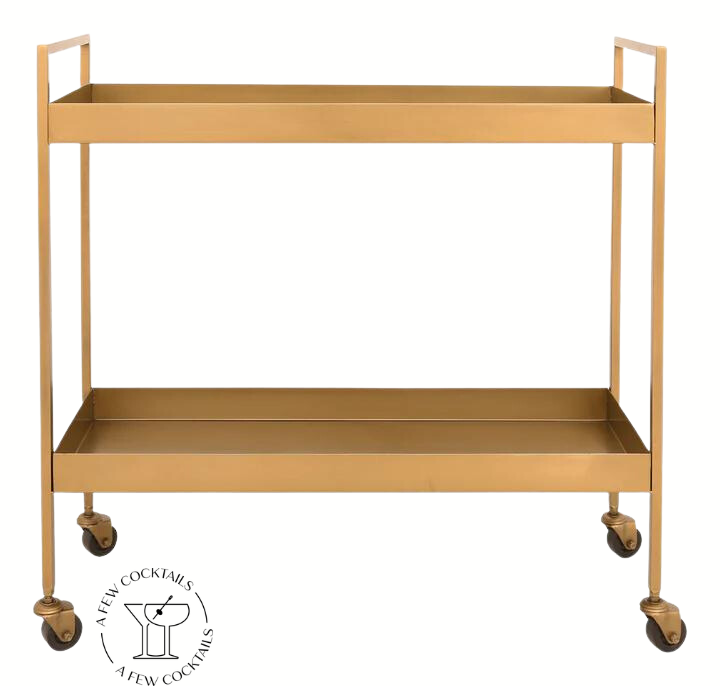 Glass
Another component of the bar cart that makes them quite expensive is the glass feature. The glass is primarily there for aesthetic so you can see down into both shelves and look at the different barware and alcohol that you've stored. Glass is the ideal furniture or table surface if you want to show off. The high cost of glass is generally because the glass needs to be molded individually for each piece of furniture. It is also the easiest to clean.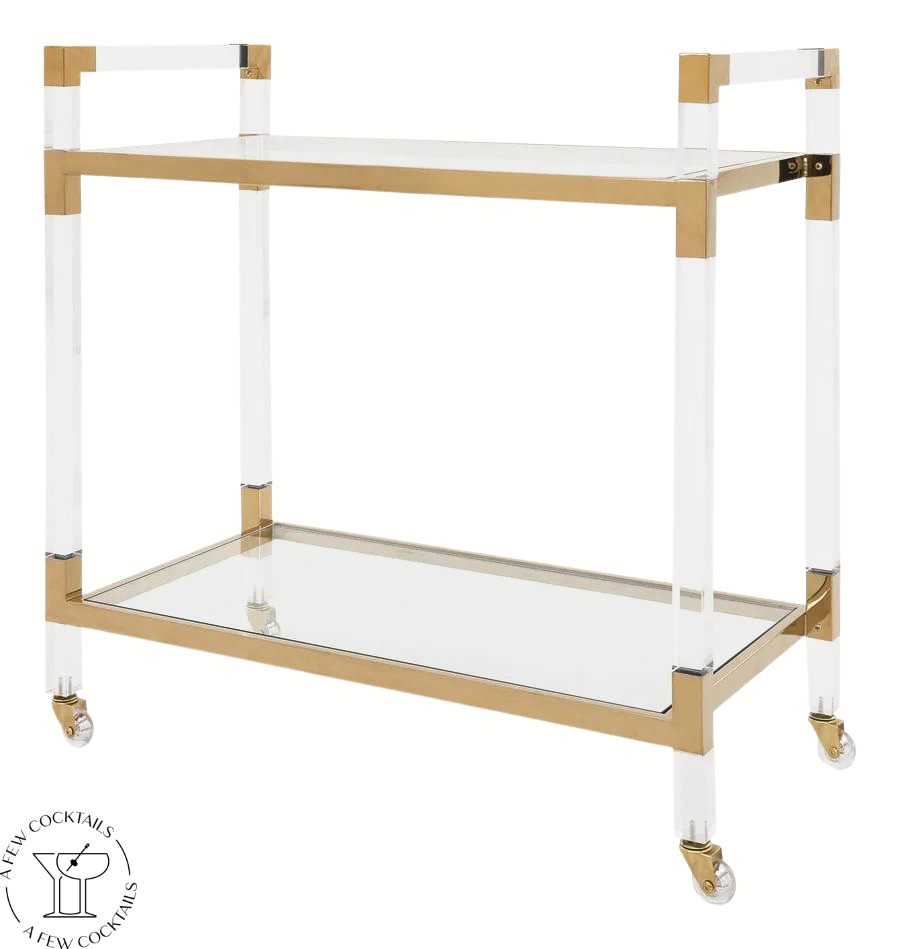 Caster Wheels
The advantage of the bar cart over the home bar is usually the ease of transportation. The caster wheels, similar to those you find on a shopping cart, make bar carts super functional and easy to transport from room to room. When you move the bar cart, you get to hear the glorious sound of wine glasses clanking on each other.Now you know the party is about to get started.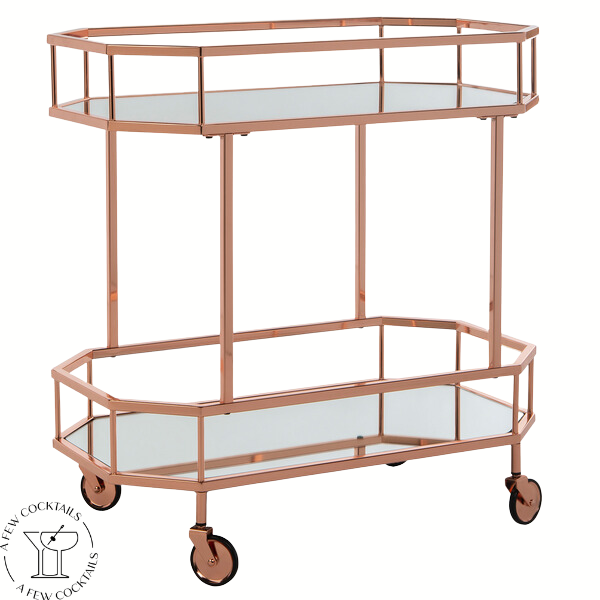 Acrylic
Some people prefer an acrylic bar cart as opposed to a glass bar cart because they want more stability and durability as well as a more modern look. The clearness of the acrylic is certainly a style choice over anything else. Acrylic tends be much cheaper than the glass alternatives...because plastic as a general rule is easier to manage and build more of. So line up your martini glasses and get to rolling.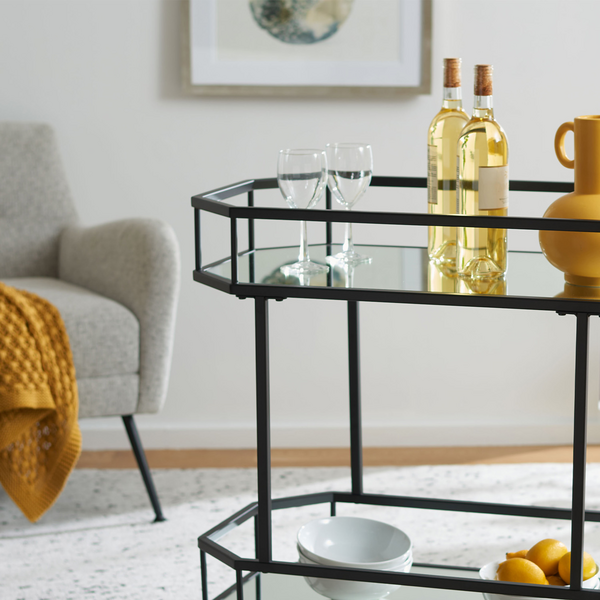 Rattan
Now if you're designing a tiki room or you live in the tropics, then you'll likely aim for a bar cart made of rattan or another form of bamboo. Most premium tiki carts or side table are made from Indonesian bamboo which has to be imported. Most rattan bar carts will come with one shelf or two shelves. We recommend at least two so you have space for alcohol bottles on the both the top and bottom to display. A rattan bar cart should come on wheels so you can roll it into the dining room.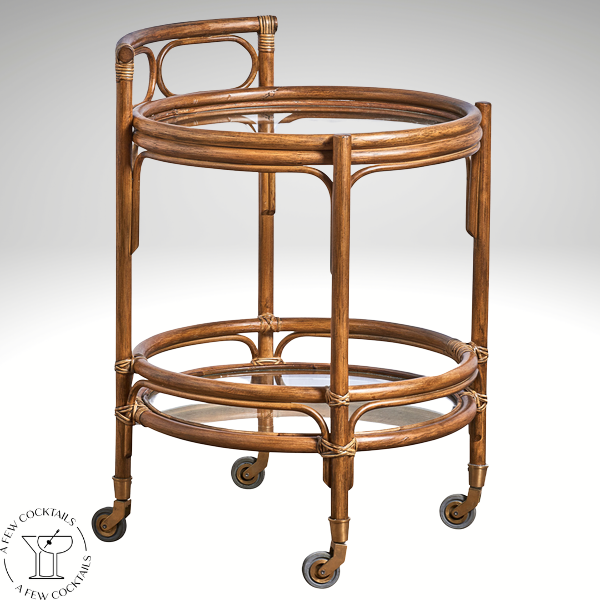 How to Properly Stock a Bar Cart
Interested in how to properly stock a bar cart? We've put together a comprehensive guide that dives into all the essentials from :
Types of Alcohol

Types of Bar Ware

What Glassware to choose
Dive into Bar Cart Essentials Now!
---