Becoming a great bartender or an at home mixologist requires the proper tools and the right the recipes. Anyone can mix cranberry and vodka but to go beyond the basic mixed drink, you need the right tools. A mixing glass. a cocktail shaker, maybe a bar spoon or two. We've been making cocktails for decades and have practice making both simple cocktails as well as difficult cocktails like an espresso martini.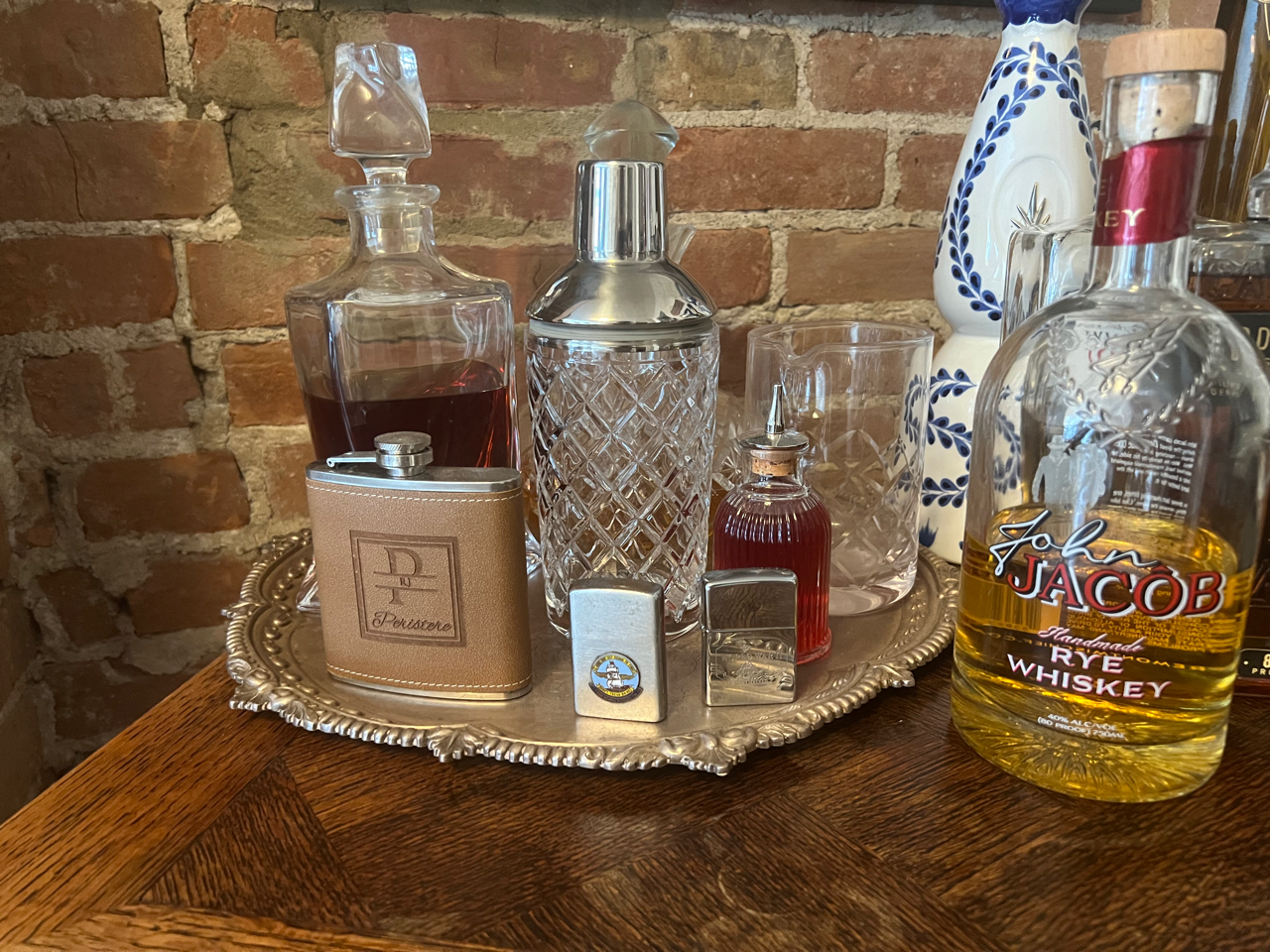 We've broken out our favorite kits based on expertise and skill level.
Home Bar

Beginner Bartender

Advanced Mixologist
Also, if you would like to support A Few Cocktails, we have put together our own cocktail kits as well. Each with every tools and glass that you will need.
Best Bartender Kit for a Home Bar
The key to a proper home bar set up is to not only have the essential bar tools but also an aesthetic collection. What we like about the Rabbit Six piece is that it is a modern mixology bartender kit. While we do like vintage style, the Rabbit Six blends well with contemporary homes and gives an elevated style without compromising on quality.
The Rabbit Six Piece set comes with the following :
Spoon for stirring

Cocktail Peeler

Strainer

Muddler
The simplicity of the tools is not only aesthetic but delivers on quality as well. The cocktail tools feel dense yet delicate enough that you work them with ease.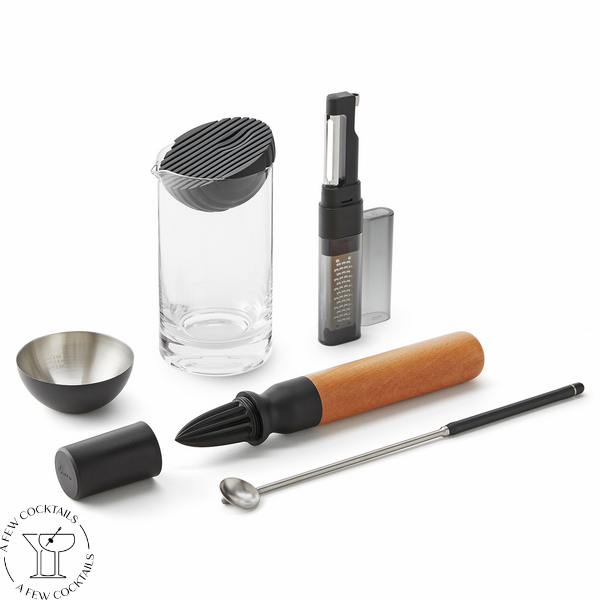 What we like :
Quality of the Build

Modern Design

Comprehensive collection
What we dislike :
Doesn't come with a cocktail shaker
Price : 60.00 $$
Best Bartender Kit for a Beginner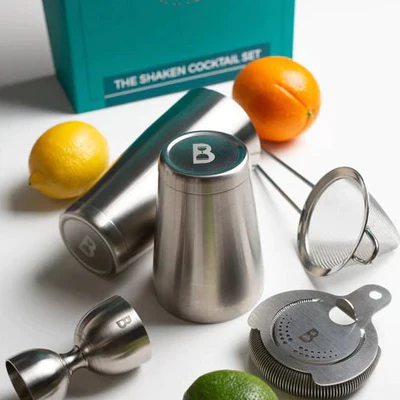 When you're just getting started as a Bartender or at home Mixologist, then it's best to start with just the basic tools. No need to overthink it.
The beginner should start out with the following tools :
Cocktail Shaker

Cocktail Strainer

Cocktail Jigger

Mesh Strainer
Bull In China has put out the perfect set for the burgeoning mixologist. A no frills, high quality set that makes for the perfect gift. This set is one the best bartending kits.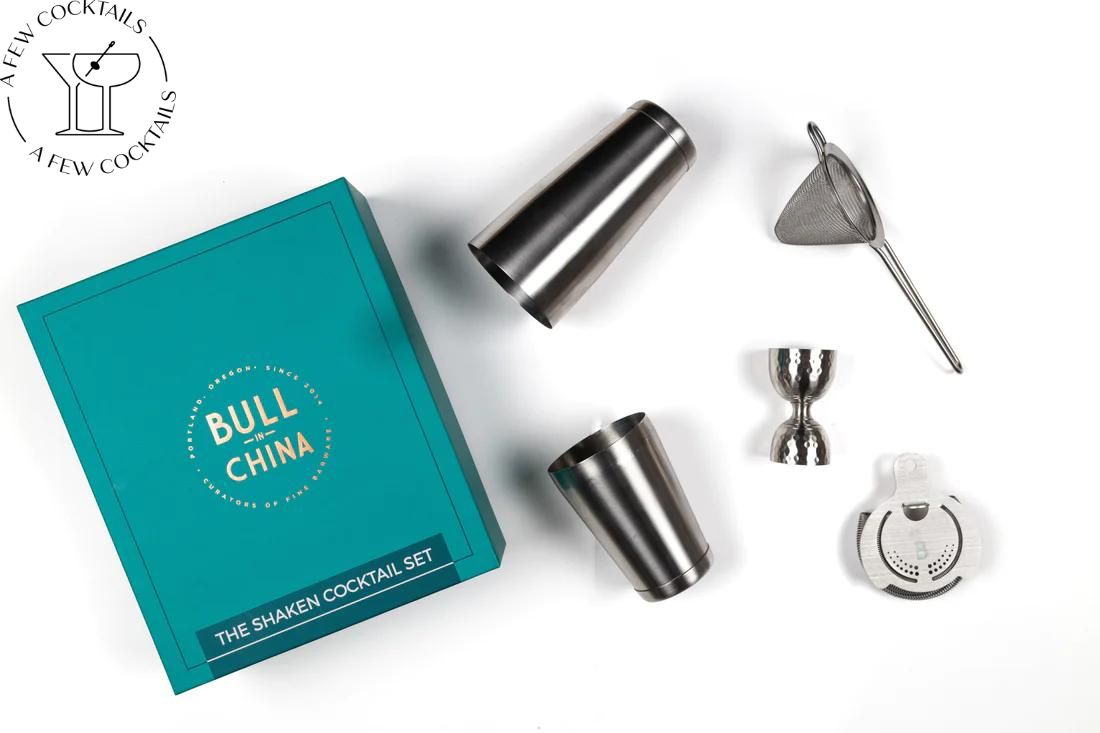 What we like :
The quality

The polish stainless steel bar tools
What we dislike :
A few tools are missing but can be purchased alongside
Price : 68.00 $$
Best Bartending Kit for an Advanced Mixologist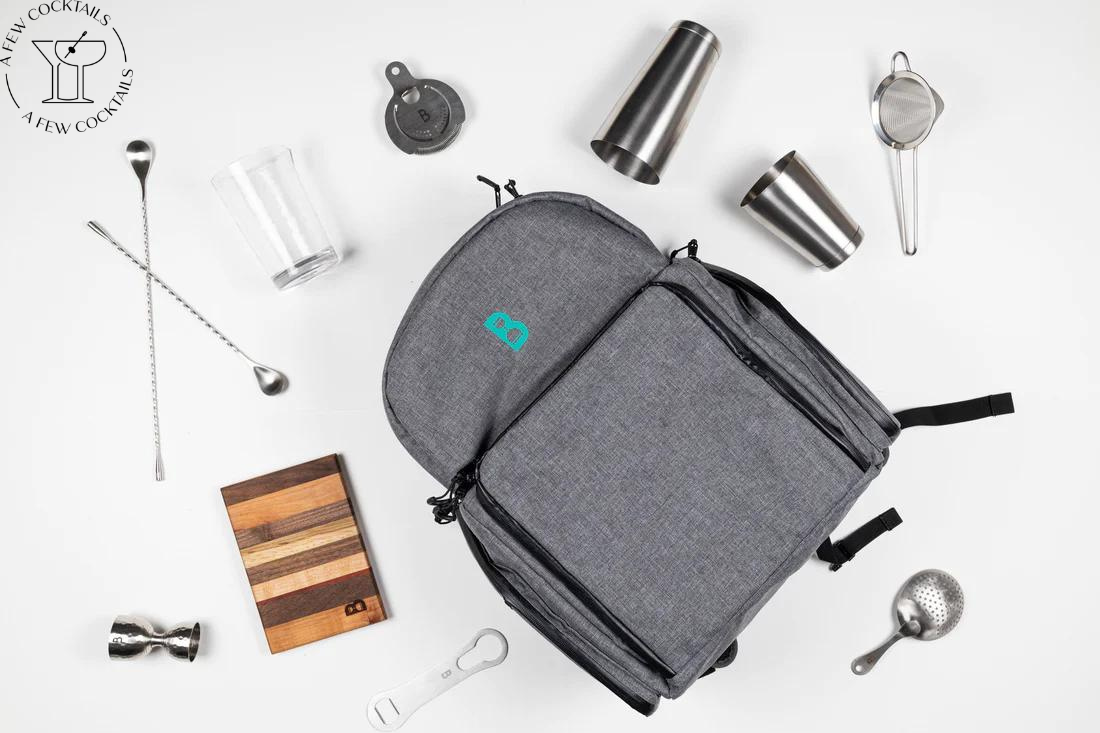 The Advanced Mixologist needs all the tools and can't settle for a good bartending kit but needs the best bartending kits. We highly recommend the Bull in China Fully Loaded Barback Pack. This is one of the best bartending kits that has every piece that any bartender would need.
Here's what comes inside :
Barback Pack ($150 value)

Flagship Mixing Glass ($60)

Weighted Shaker Set ($21)

Hammered Bell Jigger ($20)

12" Teardrop Barspoon ($14)

16" Teardrop Barspoon ($15)

Made in PDX Hawthorne Strainer ($20)

Fine Mesh Strainer ($11)

Julep Strainer ($9)

V Rod Bottle Opener ($8)

Made in PDX Cutting Board ($32)
What we like :
How neatly everything fits in the pack

The quality of the bar tools

Stainless steel bar tools
What we Dislike :
Price : 359.00
What are the Essentials for a Bartending Kit?
Mixing Glass
A mixing glass is a staple of any bartending kit, it's used to muddle berries, mint, or other ingredients. It's the perfect vestibule to mix large quantities of ingredients and sugars + bitters. The pouring spot on the end allows for easy drinking similar to a pitcher.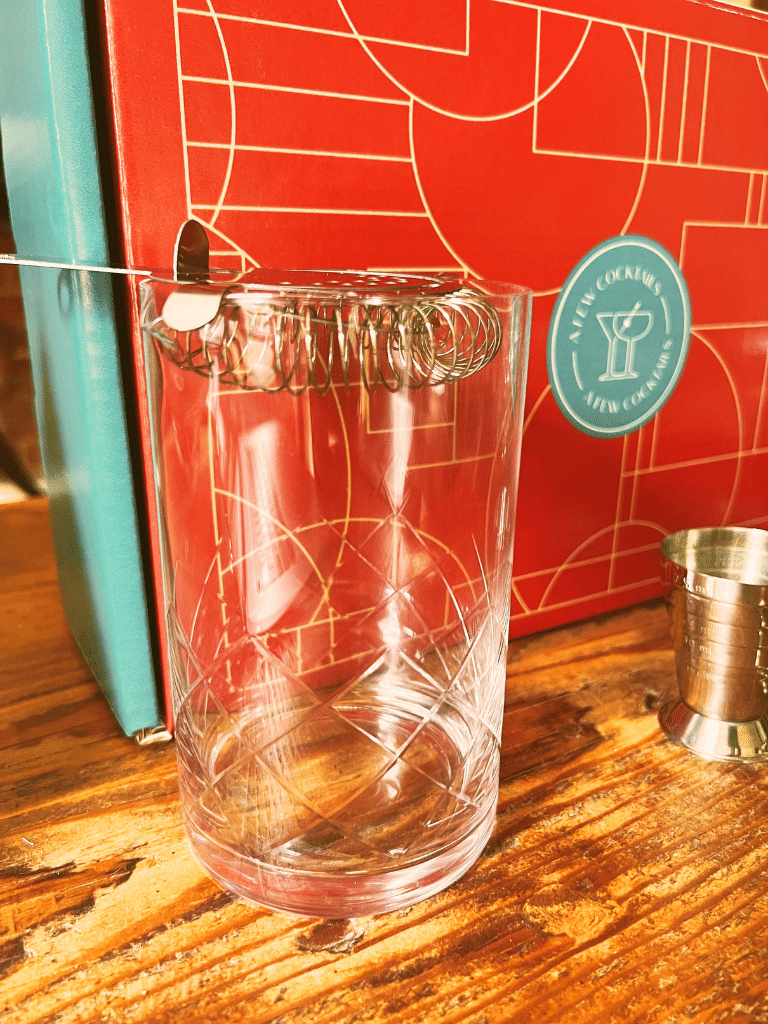 Cocktail Shaker
There are two types of cocktail shakers, the boston shaker and the cocktail shaker with a built in strainer. We generally prefer to use a cocktail shaker with a built in strainer. It has less room for error, i.e spilling all over yourself when you're shaking. We generally prefer a shaker that is made of a solid metal or crystal. There's no flavor difference between the two, it's more for aesthetic.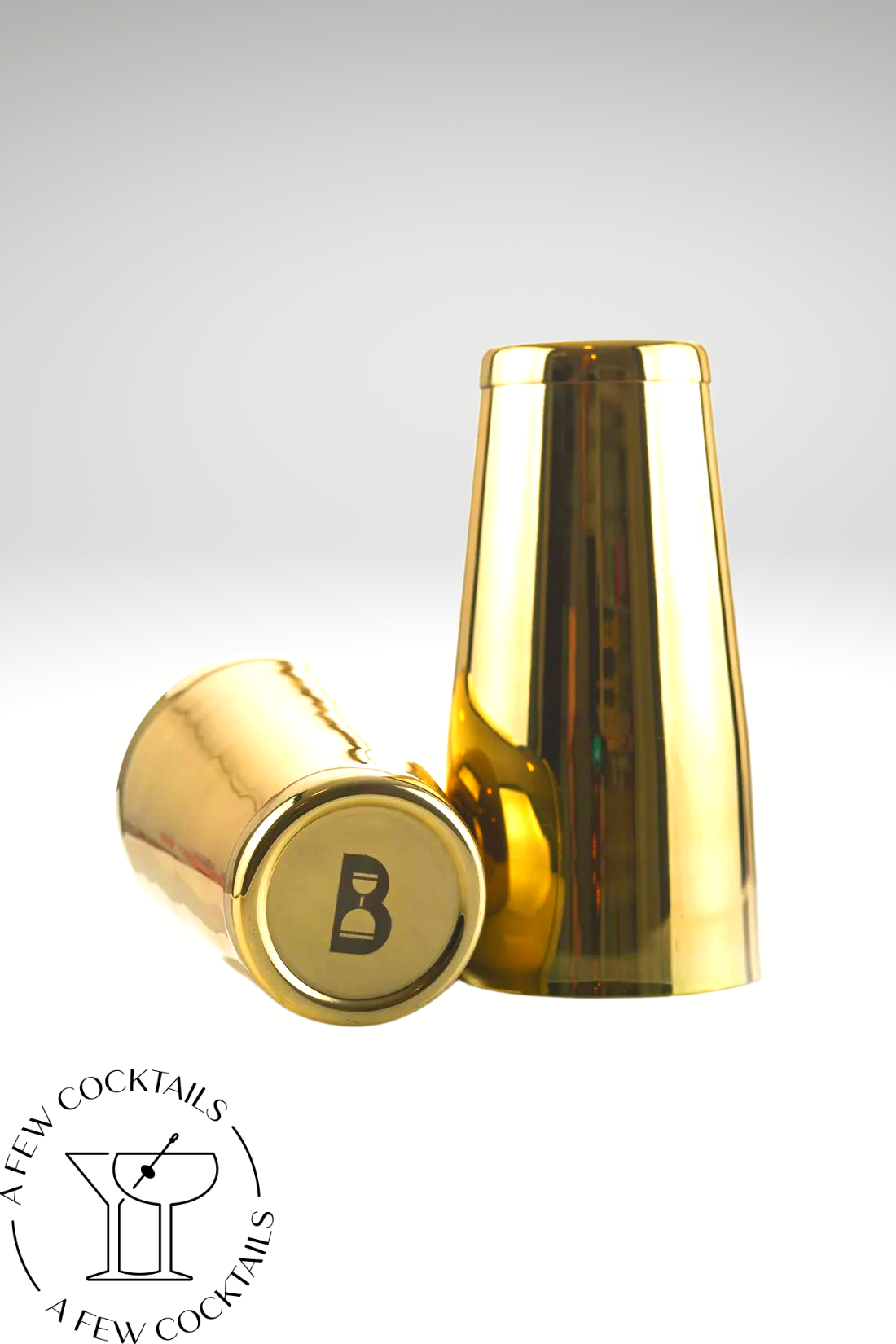 Cocktail Spoon or Stirrer
Ideally you have either a cocktail spoon or stirrer with an attached muddler. If you don't have the long spoon, then you can't reach the bottom of the mixing glass. When the spoon has an attached muddler, you can smash berries or other ingredients at the bottom.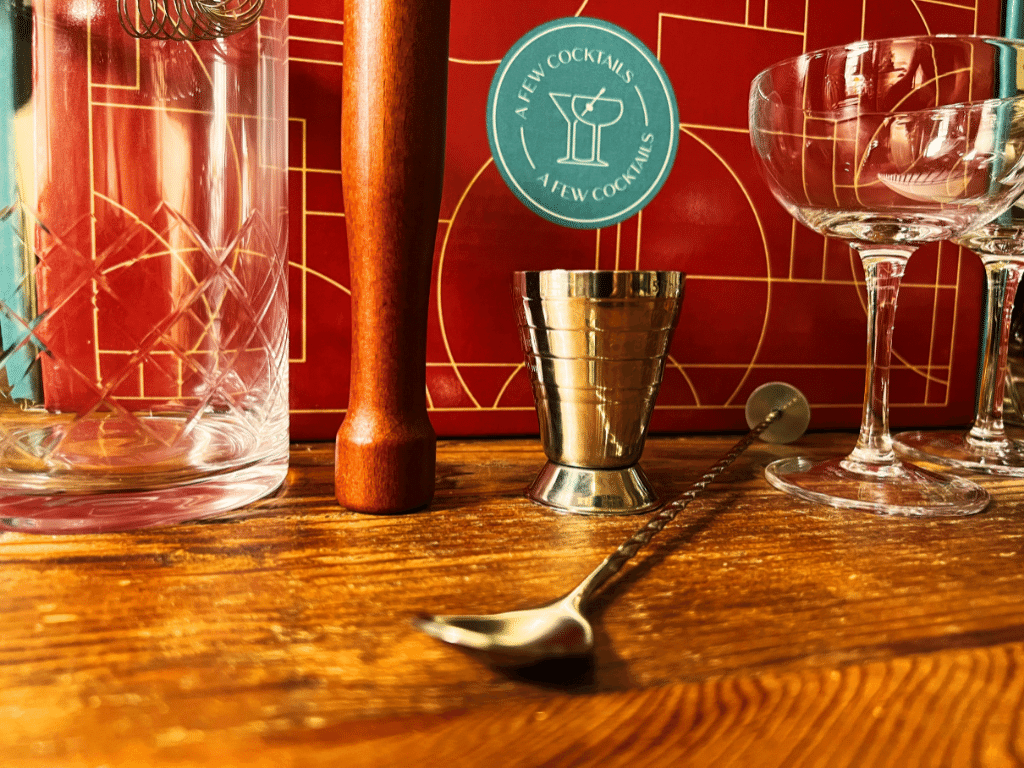 Cocktail Jigger
Perhaps the most important tool is the cocktail jigger. The better jiggers have measurements etched into the steel or glass. That was you know exactly how many ounces you are pouring. Maybe throw in some ice tongs as well.
---